With Eventsquid's built-in mobile app capabilities, you can accomplish what a team of developers could...on your own and without any programming experience. 
Within minutes, you'll have a production-ready mobile app for your event to accompany your desktop website. Eventsquid's event apps are constructed with HTML5, so your attendees don't have to worry about downloading anything. It's a web app! Any attendee that visits your event site link on their mobile device will automatically be routed directly to the app - our system detects anyone coming in from
MOBILE AT A GLANCE
To get started, let's quickly run through the UI of the Eventsquid app. There are some basic controls to know that will help you cruise around the system on your phone with ease.
Take a look at the screenshots below. At the bottom of the screen, you have a main row of icons that you'll use for general navigation. The Home icon will take you to the home page of the event you're navigation; the Menu icon at the far left will bring out the event website's main menu from the left side.
To see more events on Eventsquid, click the center List  icon to see more listings. In the Favorites section, you'll be able to bookmark events that you want to revisit.
In the body of the app, you'll see the interface is very friendly and easy to use - each of the main functions on the homepage is a circle icon, with a distinct function. From the homepage, you can quickly access a couple key functions, including:
The main event description, including location information
Your itinerary and the main agenda (you can add items to your itinerary from the Agenda)
QR code for checking-in and handing out your contact information
CONFIGURING YOUR MOBILE APP
Within the Mobile section of the Event Builder, you have the ability to customize your mobile site to your needs. The interface on Eventsquid is quite simple, allowing you to switch ON/OFF different capabilities.
Let's run through a few of the key settings and how they work...
CONFIGURATION SETTINGS
Take a look below at all the configuration options you have at your disposal, right inside the Mobile section of the Builder. No nonsense...we cut straight to the point: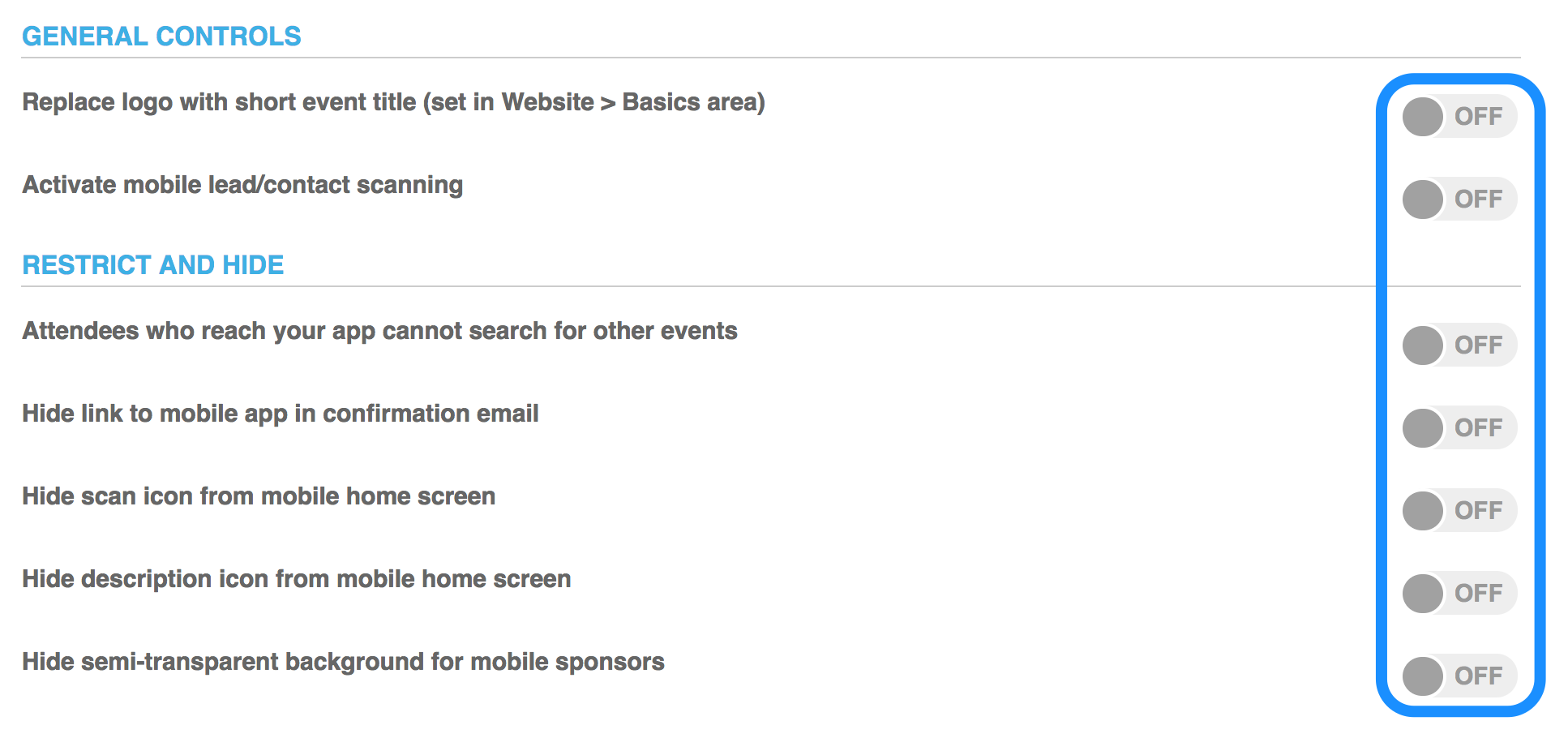 Replace Logo w/ Short Event Title - you can make your "Short Title" (aka a shorter version of your main event title that you create) replace your event logo at the top of your app. Depending on the size of your logo, this might come in handy
Mobile Contact Scanning - this feature allows you to scan an attendee's QR code on their badge (should they have one) and store their contact information. To use:


First make sure you have a QR scanner app downloaded (we recommend QR Reader)
Scan someone's label - your QR scanner will allow you to "scan the lead"
Now go back to your event's mobile app - click the SCAN LEADS icon
You can see the lead you scanned is in your "lead list" - click Export List to receive an email with an Excel spreadsheet with your lead list
Additionally, you can access your lead list on Eventsquid's desktop site:

Click your name in the upper righthand corner
Click My Events
Click OPTIONS next to the event you scanned leads at
Click Email Me My Lead List
You receive an email with an Excel spreadsheet containing your leads
Cannot Search for Other Events - someone's jealous....Anyways, yes - you can restrict your attendees from searching for other events. (PS - WE HIGHLY RECOMMEND TURNING THIS ON.) This feature could come in handy when you don't want your attendees wandering off your app and looking at other events on our platform.


When you switch this feature on, the small menu icon at the bottom of the app (in your main toolbar) will disappear
Hide Scan Icon - if you want to hide the QR code for your attendee's app homepage, you can do that with this function


This function would prove useful with an event that didn't use QR codes in any capacity and you didn't want to confuse your attendees with the scan code on the homepage
DESIGN OPTIONS
At the bottom of the Mobile Settings tool, you can add a bit of custom design to your mobile app. You can change the color of your registration button and the background image of your app. 
Check it out - you can choose one of our (beautiful) stock backgrounds for your app or create a color gradient for it (minimalist is best for a mobile app, that's why we stick to simple designs or color gradients). 
You can also give your mobile registration button a different color.