Attendees can use your free mobile web app to vote for their favorite activities and speakers, live at the event. 
It's quick and seamless to setup voting for your app - just hop into the Live Voting tool, within the MOBILE Builder, setup a ballot with some options and check it out live on your web app. 
CREATE A BALLOT
When you access the Live Voting tool section, this will be your control center:
At the top, you'll see a small tab for each of your ballots. You can click between them (like between tabs on your internet browser) and add a new ballot with the small + icon at the far right. 
You can also manually create ballot options (or voting choices) using this interface as well, with the + ADD BALLOT OPTION button. 
CREATE A NEW BALLOT
Let's create a new ballot - you'll see the following modal pop-up when you add a new ballot.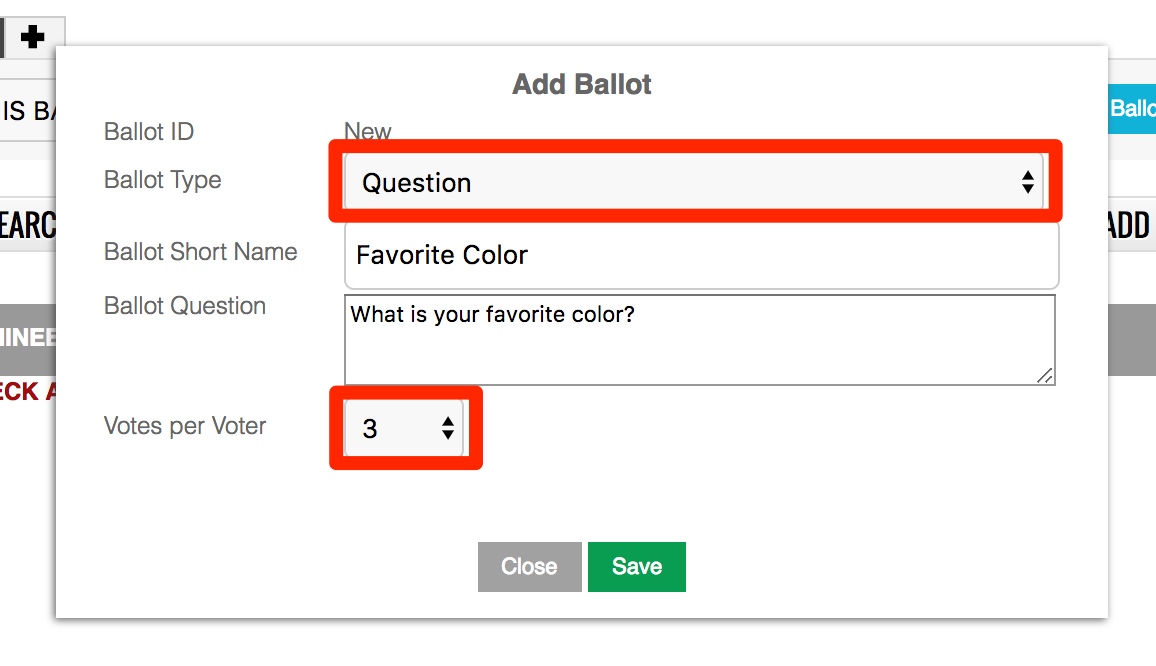 There are 2 types of ballot you can create (use the top dropdown menu to designate type):
Question - this is a simple question, for which you'll manually create answers (by creating a ballot option)
Person - this allows you to add attendees and speakers as voting options
You can also limit the number of votes each attendee has.  
ADD BALLOT OPTIONS
You can't vote if there is nothing to vote for! Thus, you need voting options.
If you have registered attendees and you create a "person" ballot, those attendees will automatically be included in the list of potential ballot options. Simply check the box next to their name and they will be included in the ballot:
If you want to manually add a ballot option (you will need to do this with simple question ballots because there won't be any options that will automatically load into the ballot), simply click the +ADD BALLOT OPTION and a small modal will appear. Add as many options as you'd like. 
Another great feature is the Filter/Search capability. Let's say, for example, you have an event with a lot of attendees, but you only want a special few to appear on a ballot you're creating. Simply click the FILTER OR SEARCH button and you can search for any attendee by their name OR by what registration item they chose (with the dropdown menu):
 PUSH IT LIVE
When you're ready, push your ballot live with the dropdown at the top of the ballot interface. You can also edit and delete ballots from this viewpoint, using the appropriate buttons at the upper right of the ballot interface.
LIVE VOTING
Let's see how the ballot works on the front-end. It's worth noting here again that voting is ONLY available on mobile devices, through the Eventsquid web app - this makes sense because where else would you vote while you're at the event!
Additionally, in order to access live voting, attendees MUST be:
Registered for the event

Logged into the mobile app
Let's go back into the app - click the menu icon to bring out the main event menu from the left side of your screen, then click LIVE VOTING. You can see our two ballots here! Click into either one to see the options:
If we click into "Favorite Attendee", you'll see the ballot options we selected in the Voting tool! Click the small check icon next to your vote - after you vote, you'll see a count of how many times you voted. Since we limited this ballot to only 1 vote per person, you cannot vote further. Take a look at the top of the ballot (right screenshot) and you'll see that after voting once, I have no further votes. 
TALLY THE VOTES
If you go back to your Event Builder and click into the Live Voting tool, you can see that as people vote, they will be counted next to their respective votes on the ballot. 
You can easily clear these votes when appropriate, using the orange CLEAR BALLOT VOTES at the upper right of the ballot module.