If you want income statement-like approach to a registration report, look no further.
REGISTRATION ITEM SUMMARY
The Registration Item Summary pre-made report will give you a look at:
Each registration item under its respective category
Every item's price and quantity sold
Any discounts applied (gross number) to purchases
Transaction fees applied (gross number) to purchases
Net Revenue
Amount paid versus amount due
This pre-made report will serve you well in budgeting / accounting purposes. Easily grab figures you can use in high-level analyses for your organization.
When you access this report, you'll have the option to generate the report for a cohort of people, including:
Attendees
Exhibitors
Ticket Holders
This feature allows you to keep your data organized and analyze specific groups of people. If you wish to combine groups, just export the reports and combine numbers through Excel manipulation.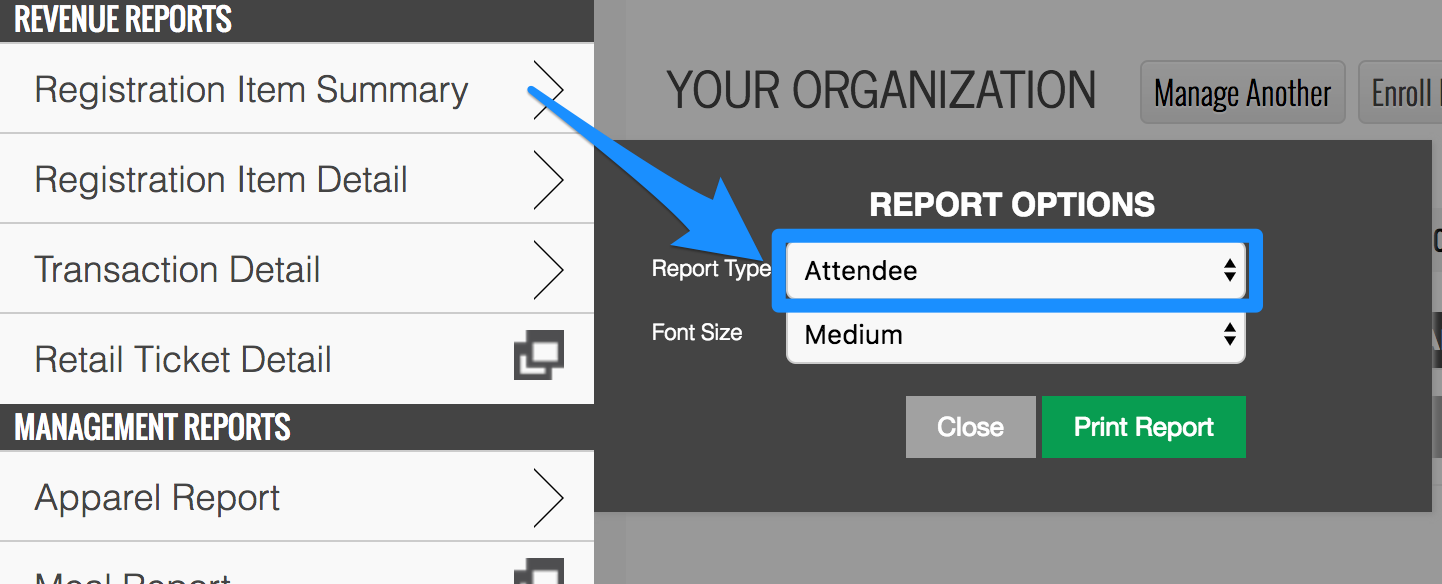 REGISTRATION ITEM DETAIL
The Registration Item Detail report (right below the summary report) will give you an in-depth view of who registered for what. The report is organized by item, with specific attendees appearing under the items they registered for.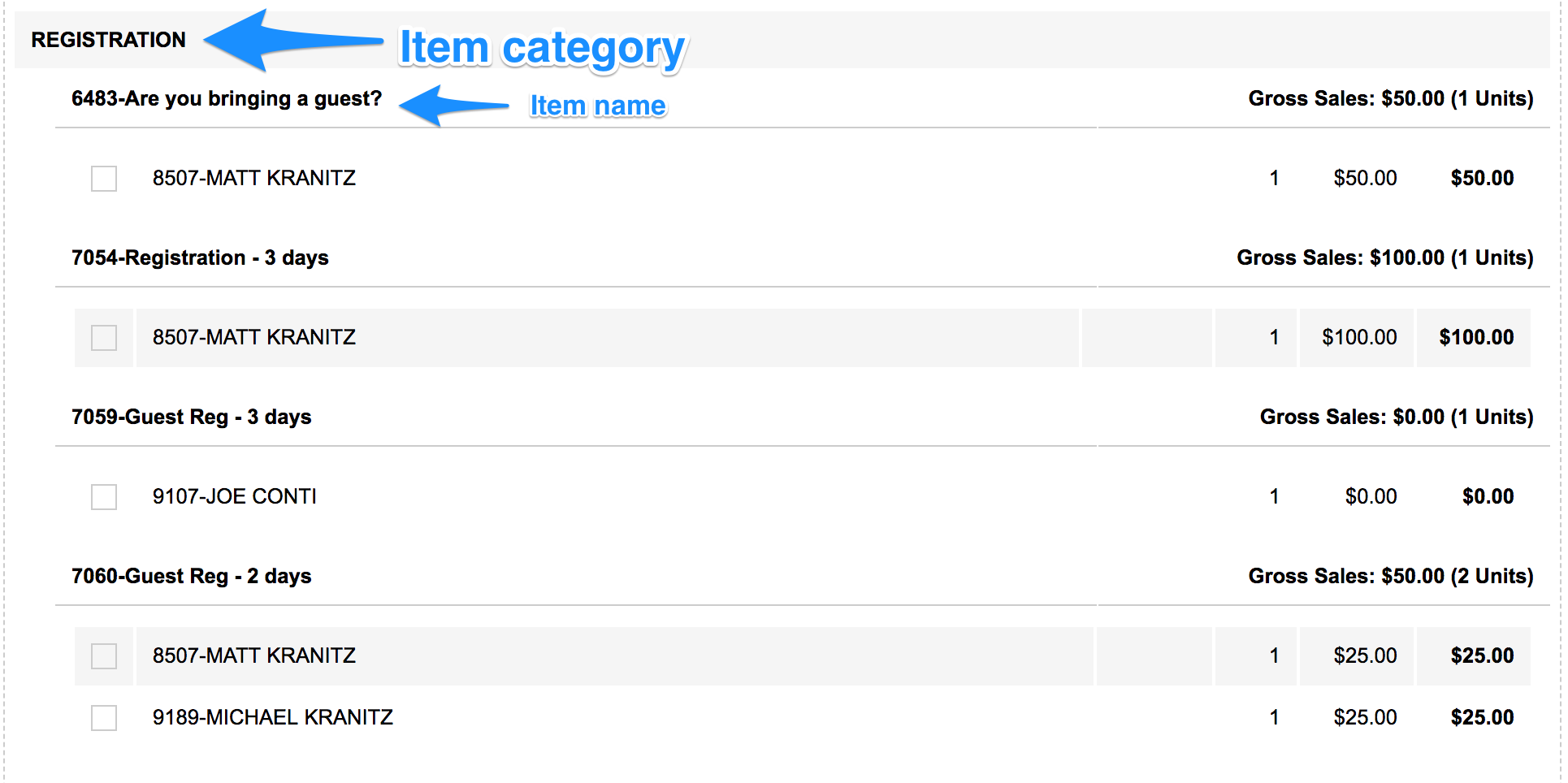 This report could become cumbersome if you have a large amount of registration items and a big group of attendees; however, there is an option to bring this data into Excel.
Just like the Registration Item Summary report, you have a few options when you first click the Registration Item Detail report, in the main menu:

For Report Type, you again have the option to gather data for:
Attendees
Ticket holders
Exhibitors
The Report Format dropdown is where you choose between creating a printed/formatted report (which you see above), or a data file that you can import into Excel.
IMPORTING TXT INTO EXCEL
To carry out the import process and get your data into Excel, select Export from the Report Format dropdown you see in the above screenshot, then click Print Report (green button in the little dialogue box).
A small window will appear like below: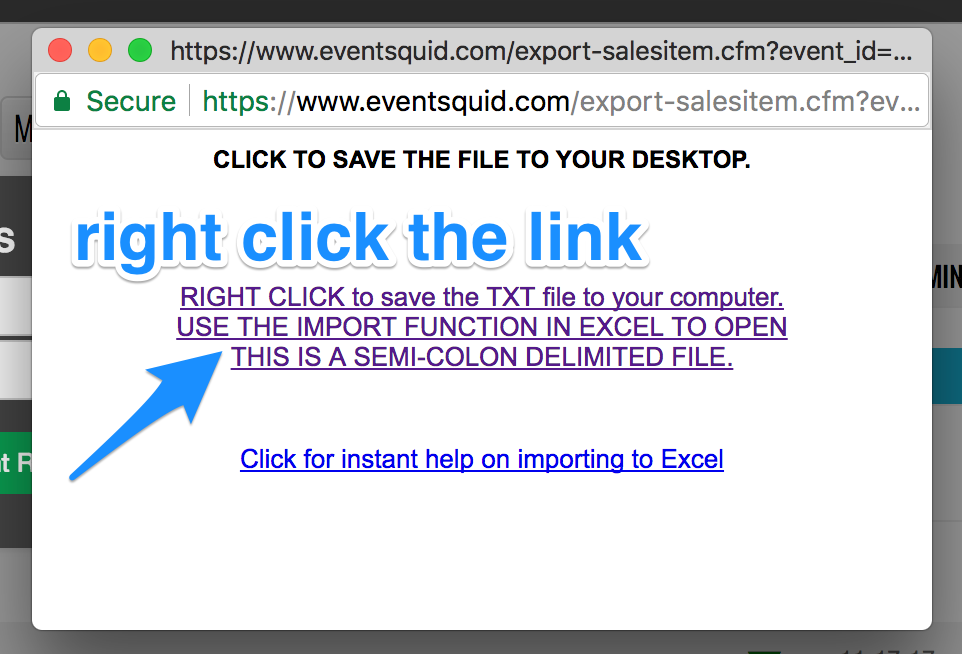 Right click the big link (like it says) and select Save As - save the file to your computer as a TXT file.
Now open Excel - click File, then Import and follow these steps:
Select TXT file from the dialogue box, then click Import

Find the file on your computer, select it, then press Get Data

Make sure "Delimited - .." is selected, then click Next

Make sure Semicolon is the only Delimiter selected, then click Next

Keep formatting as General, then click Finished
Insert your data on the current sheet or a new sheet
Now you have your data!