Eventsquid's Activity Ticket tool auto-generates professional activity passes for immediate use. After registration closes, simply click the link and a new window will appear with your attendee activity passes.
ONLY FULL guests will have designated activity passes - simple guests will not have their own activity passes and should be designated on the primary registrant's activity pass (based on their registration selections).
This makes sense because FULL guests are treated as primary registrants - they can pick and choose their own activities to register for. Simple guests are assumed to do everything their primary registrant does and therefore won't need dedicated activity passes.
THE TICKETS
With a click, you can print these activity passes out - they are already formatted for printing.
Each activity pass contains registration details and scan codes for easy check-in. Check out an example ticket below: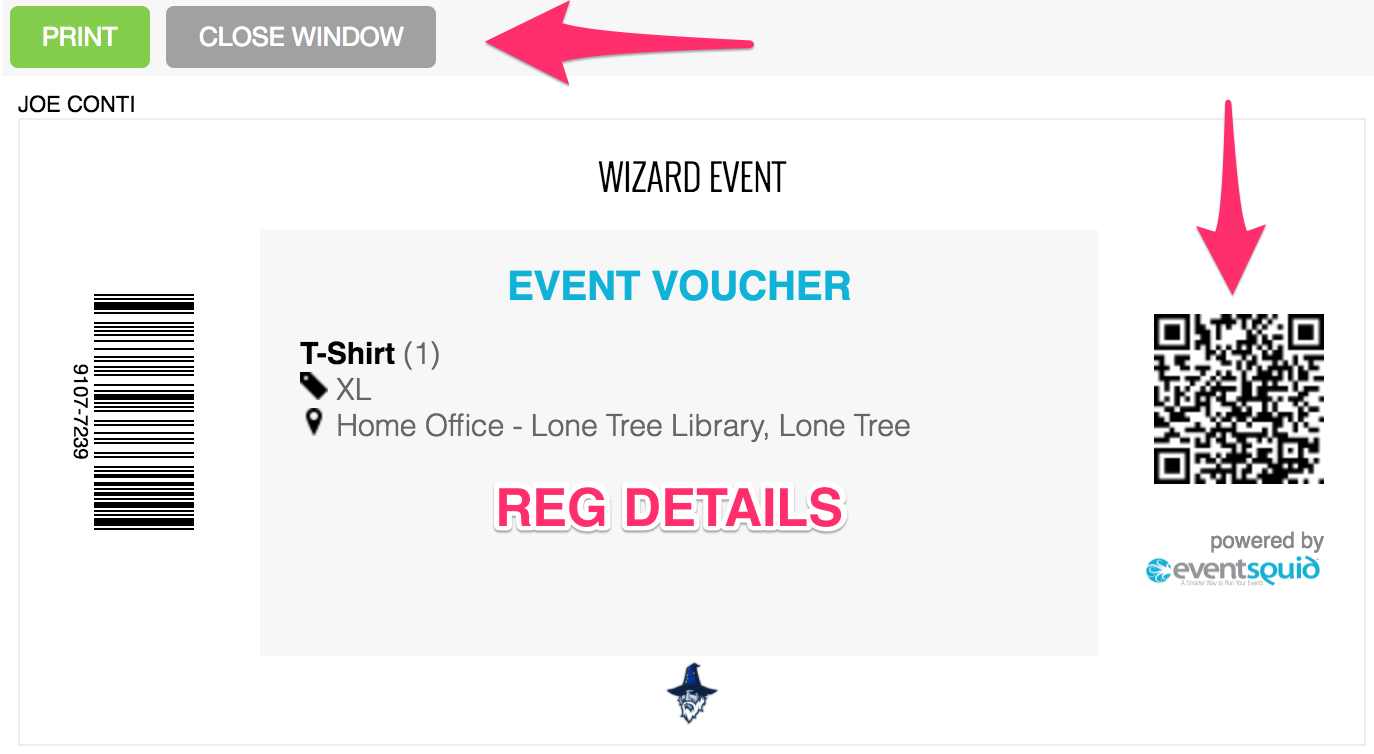 MOBILE CHECK-IN
For information on scanning with QR codes, read on or check out our Mobile Settings article (which explains how to Scan Leads with QR codes). For QR scanning, we recommend the app QR Reader.
Scan Code - when your attendee arrives with their activity pass in hand, scan it. The app should pick up the QR code very quickly. You'll be taken to a screen that looks like the screenshot below, on the left. Choose Check In.
Check In - you'll be taken to a screen that looks like the screenshot above, on the right. Here, you'll see a list of registration items that the attendee has selected (here, we only have 2 items).
Check an attendee into the activity by tapping the item - you'll create a green check-in time stamp. To check the attendee out, simply tap the item again.
DASHBOARD CHECK IN
Mobile check-in is integrated throughout the system. Head over to your event dashboard and pull open your Attendee List - you'll notice time stamps on the attendees that you checked in.
Furthermore, click into the DETAILS panel for an attendee. You'll notice you see time stamps (check-in and check-out) on the attendee's individual registration items. These update when you use the mobile app.
You can also perform a manual check-in and check-out on the dashboard, using the Checkmark and Arrow buttons, next to each registration item.
TICKETS ON YOUR CONFIRMATION PAGE
Want your confirmation page to show your registrant their activity tickets, for immediate printing? Head on over to the FORMS Builder. Click CONFIGURE next to the desired registrant profile (or the default for everyone).
At the top, click step 3. CONFIRMATION PAGE:

Scroll down and click to enable activity passes: