The Travel Import tool is one of those features that you might not need....but if you do ever need it, it's extremely helpful. 
Let's consider the case where you're hosting event that attracts attendees from around the country or world. For a select group of your attendees, you are arranging their travel information. Once you book their itineraries, you desire a way to communicate their travel information to your attendees - but with the mess of information from the airline and hotel, it only adds to the registrant's clutter of emails. 
Enter the Travel Import tool - the feature (accessed easily from your dashboard), allows you to quickly upload key travel information (like confirmation number, airline, flight number, etc.) directly into the system, for all of your desired registrants. Furthermore, you can then quickly email this information to them through the system, using the Communications Center. 
Let's walk through the tool and how to use it. 
UPLOAD TRAVEL DATA
Now for the real fun - it's time to either upload brand new travel data for your registrants, or adjust existing data. BOTH are done using the exact same process. Read on, grasshopper.
DATA IN EXCEL 
Once you have all of your travel data fields in the system, the next step is to import your data. Head back to the dashboard, click your desired event, then click the Travel Import button (see below):
Once you click this button, you will be led to a guide sheet with instructions on how to upload your travel data. Here's a quick summary:
Download the Excel template (by clicking the text DOWNLOAD & SAVE THIS SPREADSHEET TEMPLATE at the top)


Click EXPORT SCHEMA when the sheet loads in your browser

Edit your data in the Excel template, then save it as an Excel file (NOT TXT!)
Do NOT remove any columns from these spreadsheet (it's best to leave as is)
Highlight and copy the data in your Excel spreadsheet that contains:

The data you would like to change
The column headers of the data that you would like to change
NOTE: check out the Excel schema that you downloaded/exported in step 1 above - notice at the top there is a row of yellow highlighted cells. These cells show you what types of data are acceptable to place under each column, or field.
This is massively helpful if, let's say, one of your travel data fields is a dropdown menu in the system and only has a limited set of options. In order to add data or change data in that field (using the Travel Import tool), you will need to choose one of those values! So it helps to have a guide in the Excel file as you make changes. 
Alright, onward to the import process!
DATA IMPORT PROCESS
Now that you have your desired data copied, head back into the software and click the blue button at the bottom of the page that says Load Spreadsheet or CSV. It looks like this:
When you click this button, you will be led to a dialogue box that allows you to paste your copied data into the system. Fear not - your data will look like a mess! But in the next step you will be able to sort it out. So DO NOT try and edit the text in this box - it's supposed to look messy:

Once you pasted the sloppy joe data, click for Step 2 at the bottom right. You will be taken to the data mapping phase - this is where you assimilate your column headers (from your Excel file) to the actual fields in the Eventsquid system. This step basically tells our system "what the data means". 
Simply match your data columns (that you copy and pasted in the last step) to the fields in the system, using the dropdown menus. You ONLY have to match/map the fields of data that you're interested in changing. Check it out below:

Once you're finished mapping, scroll down to the bottom and click the Step 3 button. 
Check it out, you're almost finished. Here, make sure you're data looks correct. The screen will give you a nice and organized layout of your data, under their proper fields. If you've mapped everything correctly, your column headers should match. See below:
After you've made sure your data looks good, click checkbox next to Exclude the first row. This is very important - since you copy and pasted your data WITH the column headers in there, you will need to exclude them in the final step (you don't need 2 column headers after all!). 
Then, click Done. 
Congratulations! Whether you uploaded brand new information or adjusted existing travel information, you'll be able to back into your registrants' details panel and check out the changes that you made.
COMMUNICATING TRAVEL DATA
If you changed or added travel information for a registrant, you probably want to communicate this information to your registrant. Especially if you made the itinerary for them completely.
SENDING TRAVEL INFORMATION WITH THE COMMUNICATION CENTER 
Head on over to your event dashboard and select Communications Center at the top, (for more information on how to use the Communications Center, see our help article). 
At the top left, select your event from the dropdown menu. Then, scroll down a bit to see a list of your attendees. You can select individuals from your list to send travel information to. Check it out below:
 Once you have your list selected, you'll want to customize your message with the tools on the righthand side of the Communications Center.
Once you're finished customizing your message, scroll down to the bottom of the page. You'll see a block called Content Blocks - expand this to reveal options to include content in your message. 
The first option (and the one you want here) will allow you to include the travel information for each registrant that you choose to send the message too. This content will be gathered from the details panel of each registrant.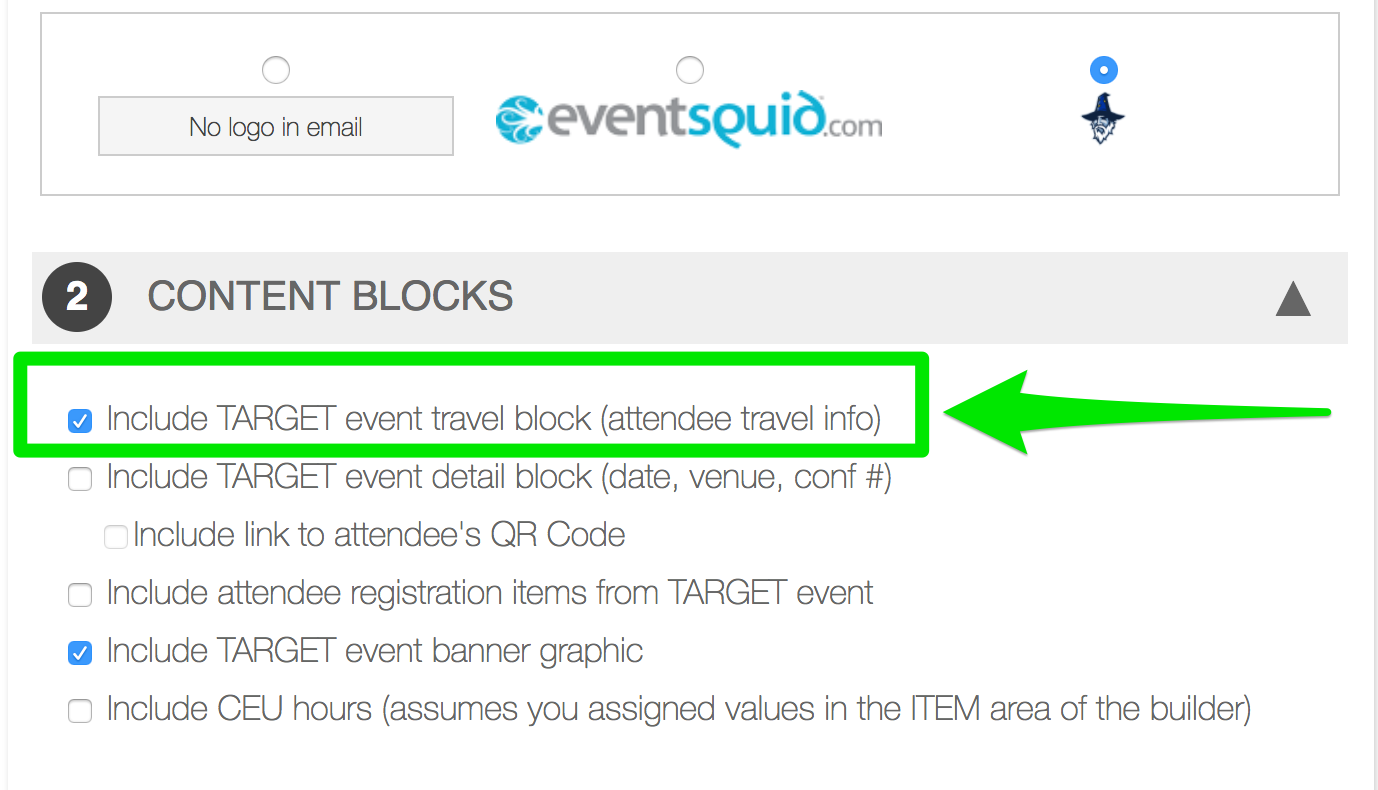 Now, your registrants can stay organized with their itineraries all ready to go!
TRAVEL FIELDS & DATA
Before importing data, it's important to have the proper fields in the system that will handle that data. Otherwise, there's nowhere for the system to store that data. 
Go to your event dashboard and click your event. Click the Registered Attendees button, then click the Details button for one of your registrants. You might already be familiar with this panel, the Details panel - it contains all information about a particular registrant. From this menu, you can access Travel Information, see below:
These fields come from the FORMS section of the builder. Note that all fields related to travel will display on this details panel (even if they aren't included in your registration form!).
ADDING NEW TRAVEL FIELDS (CUSTOM PROMPT LIBRARY)
Once you are in the Custom Prompt Library, click the green Create New Prompt button. A new prompt, in an undesignated category, will appear. See below what the prompt editor looks like:
In order to create a new custom prompt that will be associated with "Travel Information," you will need designate your prompt's Category as travel and make sure it is "Travel Related". 
FIELDS IN THE FORMS SECTION
Let's jump over to the FORMS Builder to demonstrate. Click Attendee Forms & Notices (for more information on Attendee Forms & Notices, click here for our help article) on the righthand menu (once you get to the FORMS section of the Builder). Take a scroll through your prompts and you will see a section of prompts entitled Travel Information.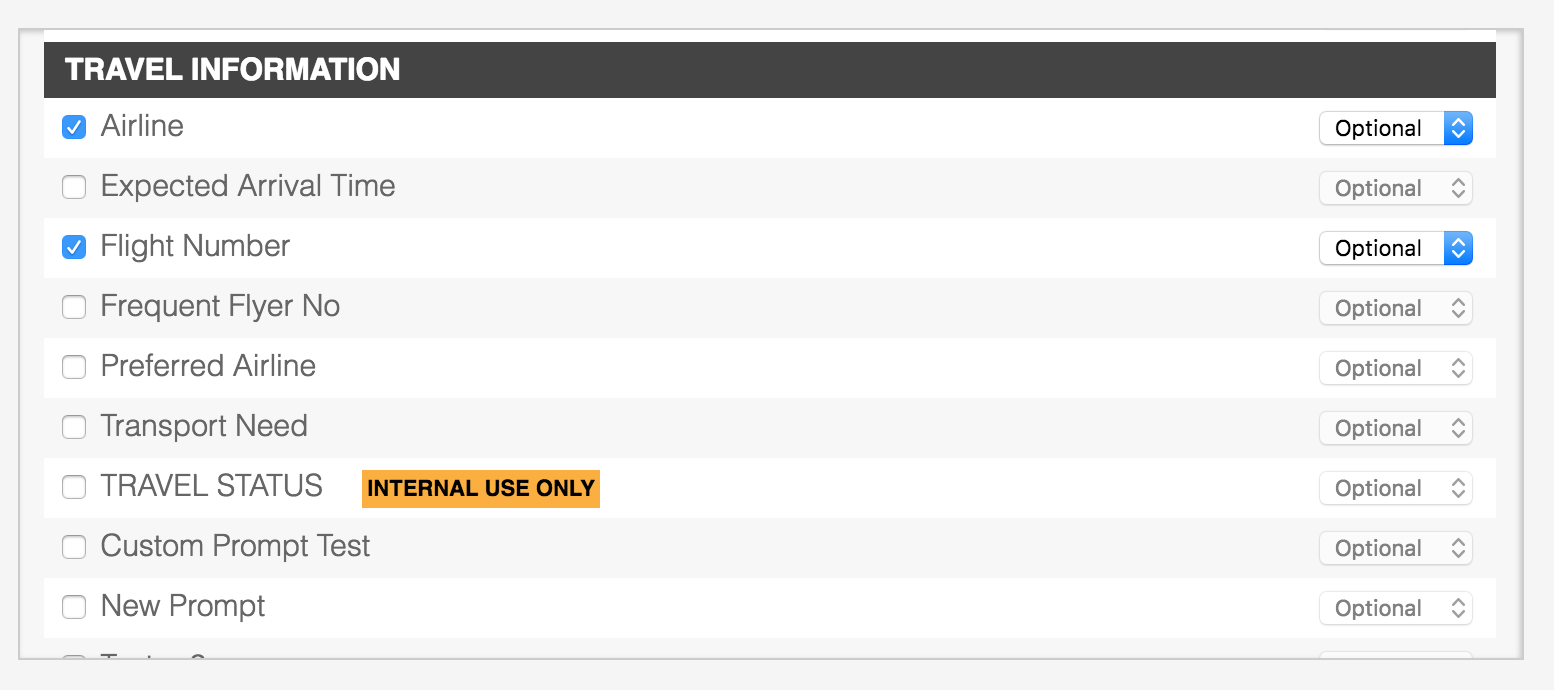 You can see all of you travel fields are located here. If you don't see a travel field here that you would like to add, you can do that in the Custom Prompt Library, which is accessed from the righthand menu in the FORMS Builder as well (which we just discussed). (Click here for more information on the Custom Prompt Library.)