The EVENT BUILDER is the central hub for creating and managing your event website.  The navigation on the left is organized logically by category.  Simply click on the category on the left and the powerful toolset for that category will show on the right.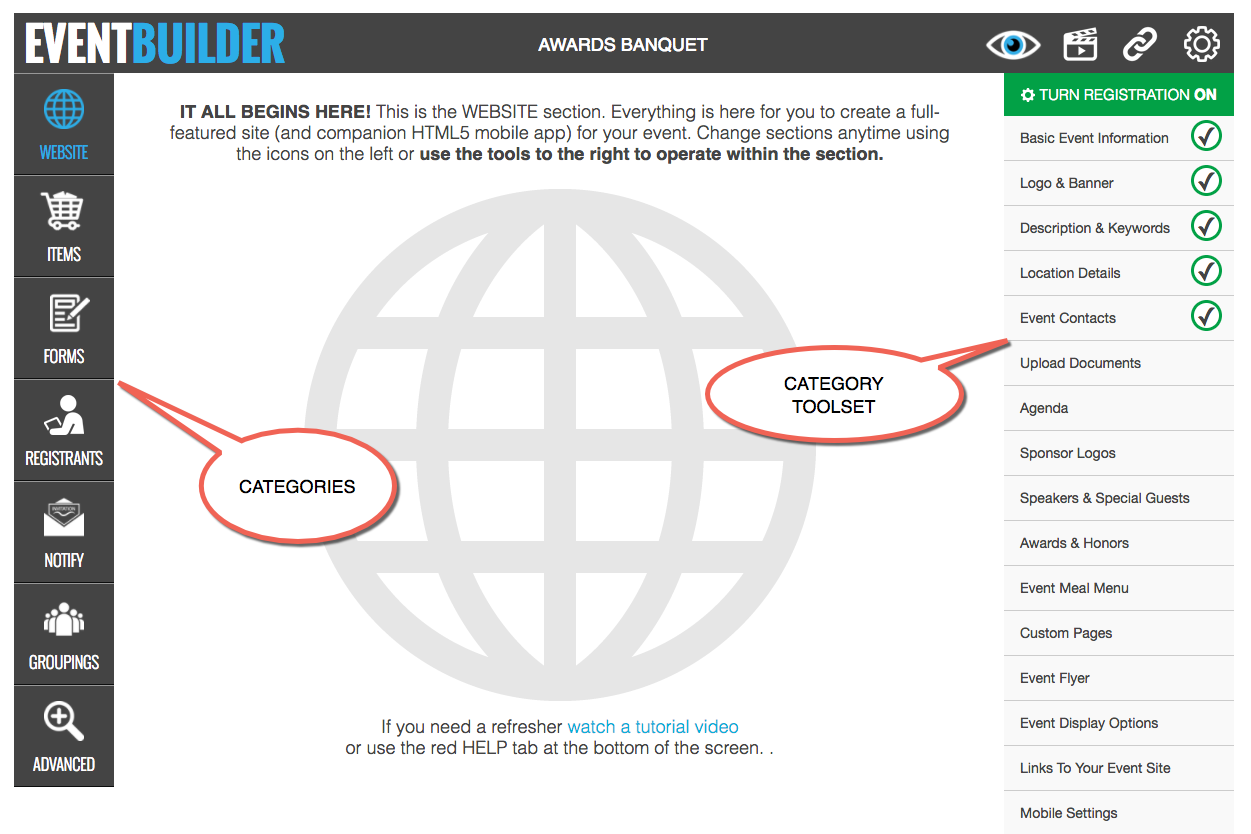 The main categories of the EVENT BUILDER:
WEBSITE - Create and manage your clean, professional event website. The robust toolset allows you to take complete control of your event site and HTML5 (no download required) mobile app. You will set your event essentials; from the name of your event to location to event contacts to the look and feel of the site.
ITEMS - The core of your event website is what people can register for and all of your related business rules including pricing, limits and intelligent groups. Create the sessions, merchandise, services, facility rental or whatever you want attendees to be able to choose (and pay for if needed).  After you set up your registration items, you can create price-related promotional incentives as well. 
FORMS - What information do you want to collect from your registrants?  Choose from a commonly used set of prompts or create your own. Create one or more registration forms, complete with custom prompts, custom text, custom confirmation emails and document or photo uploads.
REGISTRANTS - The Registrants section lets you create custom registration experiences for attendees (e.g. different item and pricing offerings as well as different form prompts) based on the registrant type. This area includes Guest registration setup.
NOTIFY - This section lets you send out custom invitations and track responses. You can also set up notices of all registrations to go to third parties.
GROUPINGS - Whether you need to organize your registrants by table or create golf foursomes, the GROUP BUILDER has you covered.
ADVANCED - In this section, you can set up volunteer jobs, manage your live voting (for use with the mobile website) and hotel specials.
SCORING (Selected Eventsquid Sites) - Scoring tools let you set up scoring parameters for you sport! You can also use the series building tools for long-running competitions.