This section of the registrant record panel gives you the power to:
Add or remove registration items
Make accounting adjustments
Redeem coupons on the fly
Take credit card payments (Stripe and Authorize.net gateway users only)
Check-in/out the registrant generally
Check-in/out or scratch the registrant by activity
Adjust quantities of any item ordered
Generate a registrant's personal itinerary, parking pass or scannable activity tickets
Send the registrant an invoice/receipt
ADD OR REMOVE REGISTRATION ITEMS
Begin by clicking the + Add Item button atop the panel.  Using the menu, add any item.  Conversely, clicking the red X adjacent to an item will delete it, as will changing its quantity to 0. 
MAKE ACCOUNTING ADJUSTMENTS
Many times, you will find the need to make accounting adjustments to a registrant's record.  Making accounting adjustments is different from accepting payment by credit card.  We cover credit card payments below.  
If you need to make a refund, grant a credit or otherwise adjust the balance due by the registrant, click the PAYMENTS button atop the panel.  Within the panel, you can select to either credit or debit the registrant's account for any amount. You can specify the form of payment/credit and insert a transaction ID of any type (it could be the admin's initials). 
In addition to accounting adjustments, the panel will accept coupon codes that you create in the EventBuilder.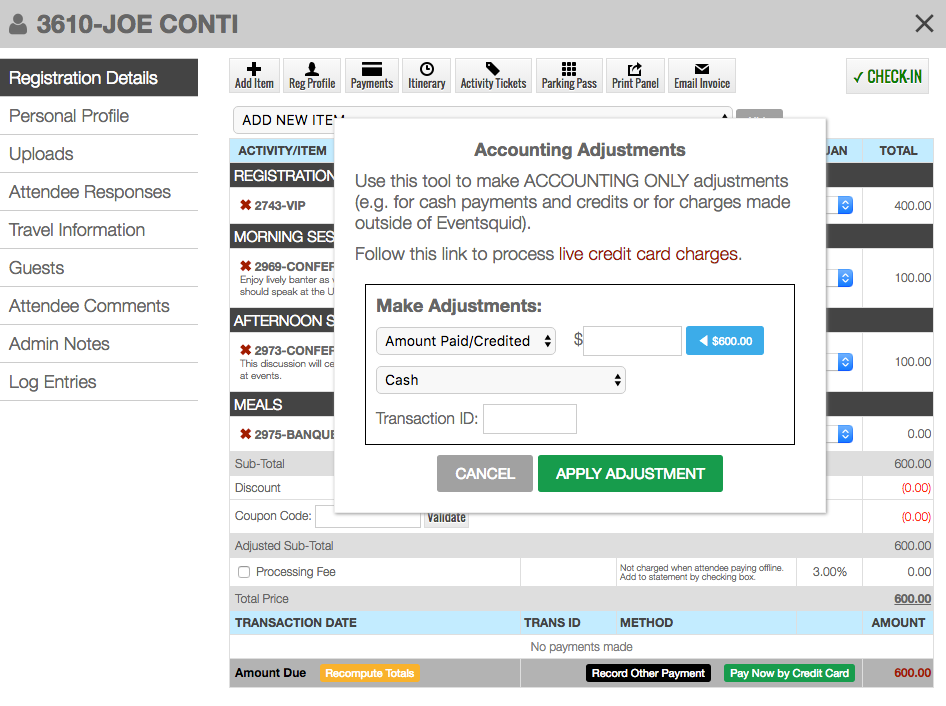 ACCEPTING CREDIT CARD PAYMENTS ON THE FLY
If you use either the Authorize.net or Stripe gateway, you will see a PAY NOW BY CREDIT CARD button adjacent to the balance due at the bottom of the panel.  By clicking this, you can accept payment on the spot, which will result in an immediate accounting adjustment reflecting the payment.  If you are interested in changing your payment gateway provider, you can do that globally by visiting your ORGANIZATION MANAGEMENT area.
CHECK-IN AND SCRATCH
You can check-in a user from the main dashboard by clicking the CHECK-IN button.  Clicking the date will REVERSE check-in.  Within the details panel, you can also record check-in's and scratches by activity.