SINGLE EMAILS & TEXTS  
The Communication Center is divided into two sections; the mailing list section and the message section.
MAILING LIST
First, refine your list then select the recipients you want.
List Type  Choose from Event Attendees or other types of registrants or organization members.  Selecting Event Attendees will reveal a list of your events.  You can then further refine by registration profile if available on your event.
Keyword  You may enter a keyword or search term to help identify specific registrants.
Filter  Check the box to show only volunteers associated with your event.
SMS  Check the box to send your message as a text.  Only registrants who have opted in to receiving texts will get the message as a text.
Once you have filtered your registrants, you will see a Recipient List.  Check the top box to the left of "Name" in the header to select all; otherwise check the boxes next to those individuals you want to receive the message.
YOUR MESSAGE
You may create your message entirely from scratch or use a saved message template.
Simply type your message in the message field and format it as you wish.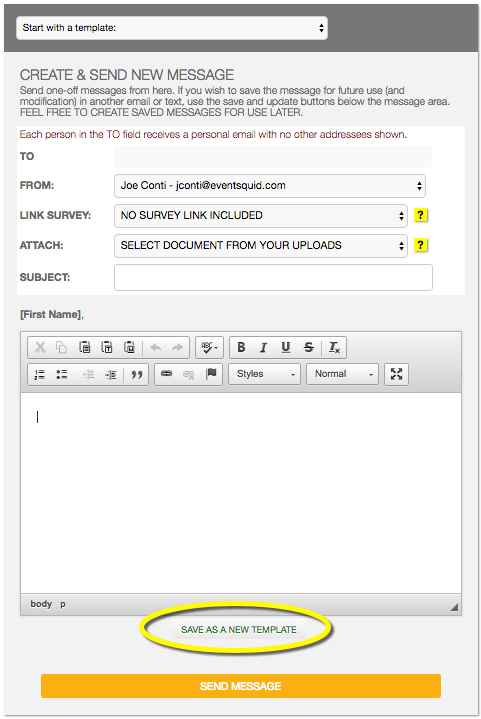 Once you finish entering your message you can save it as a template for later use by clicking "SAVE AS A NEW TEMPLATE".  Note that your subject line will become the name of your template.
You may include a link to a survey or an attachment with your message.
SCHEDULE AUTO REMINDER
The Eventsquid system allows you create messages that will be automatically sent to registrants prior to the event start.  You create the message and select the timing!
MESSAGE SECTION
In the message section, select your event, timing, sender and enter a subject of your email.
You can save the message as a template.  If you started with a template, you can update the template or save it as a new one.
Click "SAVE NEW REMINDER" to schedule your email. 
MESSAGE LOG
Click on the message log to see the messages you have sent.