CHECK-IN METHODS
There are SEVERAL ways to check attendees into your event or into individual sessions within your event (e.g. for tracking attendance at a session or redeeming for an item, like a shirt or meal).
1 Use a laptop and access the dashboard. This method is full featured.
2 Use a free scanning app to scan attendees' printed vouchers, mobile QR codes, badges or QR labels. We recommend QR Scanner by MixerBox because after you are finished with an attendee, you can return to the scanner screen in one tap. You are free to select any scanning app that reads QR codes.

3 Use the self-serve tablet kiosk to allow attendees to check themselves into an event (will not trigger the printing of a badge).
In the EVENT DASHBOARD, click CHECK-IN under your event for the link to the tablet check-in.
4 Print the manual check-in report.

WHAT CAN YOU SCAN?

We include QR codes on badges, labels, vouchers and in the mobile event app. Scan any of these to display the individual sessions/items the attendee has registered for. Even if you only have one registration item, checking in an attendee for that item will check the attendee into the event generally.
1 Activate printable vouchers in the FORM section of the EventBuilder. Attendees can bring these to the event. You can scan them.

2 Include a QR code on the front of the badges you create in the reporting area. This is useful for session scanning and for validating redemption for an item or a meal (yes, you can ditch the drink tickets).

3 If you use another badge service, you can print labels that include the attendee's name and a QR code (you can add more information if needed) and stuff the labels inside the badge holder.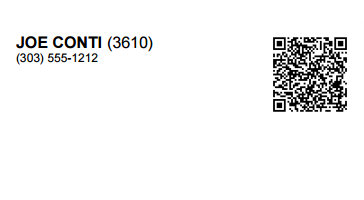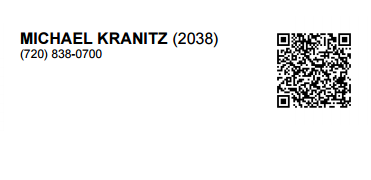 4 In the confirmation email sent to registrants, the system will, by default, include a link to a standalone universal QR code outside the mobile app.
5 Attendees who sign into the mobile app (using the same credentials they set up while registering) have a digital QR code on their phone. Scanning this, like all other codes, leads to the universal check-in screen.
WHAT HAPPENS AFTER YOU SCAN?
The scan reader displays our universal check-in screen. This screen includes the attendee's balance due (or paid) status along with all items for which the attendee registered. Tap and check-in. The check-in data you generate is displayed in your custom report, which can be downloaded directly to a spreadsheet or consumed through our REST API.

Scan a badge, label or the attendee's app Alerts for balance due Checkin for single & multiple quantity items