Rooms and tracks. Tracks and rooms. Bada bada....bada...boom. 
ROOM SETUP
In the Event Basics section of the Event Builder, you setup a location / venue for your event. Now, it's time to get specific (of course, only if you want to). With the Room Setup tool, you can easily create rooms that are a part of your venue. This helps keep you organized, keep the attendees directed to the proper locale (on event day) and even helps keep speakers booked in the right place. Let's take a look.
CREATE ROOMS
Click into the Room Setup tool, within the Agenda section of the Event Builder. You will see your current location that is set for the event. Take a look below:

Underneath your venue, create and delete rooms. Notice how the venue is in a dropdown menu above - you can select different venues to create/edit/delete rooms form.
NOTE: This does NOT change the venue of the event (which is done in the Event Basics section >> Basic Event Information tool). The tool simply enables you to manage the rooms you have built previously for any venue.
ASSIGNS ROOMS WITHIN YOUR AGENDA
Now it's time to put the rooms to use. Click into the Agenda Setup tool on the left, then open an activity slot on your agenda. Select Venue & Room on the left:
Notice your rooms (for the corresponding venue) are available to assign here. Also notice you can change the venue (or overall location) for any particular activity! So even if your overall event is showing the location as one place, you can change sub-activities to different locales. Pretty nifty.
CONFLICTS
Our system is smart. Really smart. That means you can't book 2 different activities that occur at the same time, in the same room. Go ahead, give it a shot. Create 2 activities on the same exact day/time, then attempt to assign the same room to them....ya can't do it!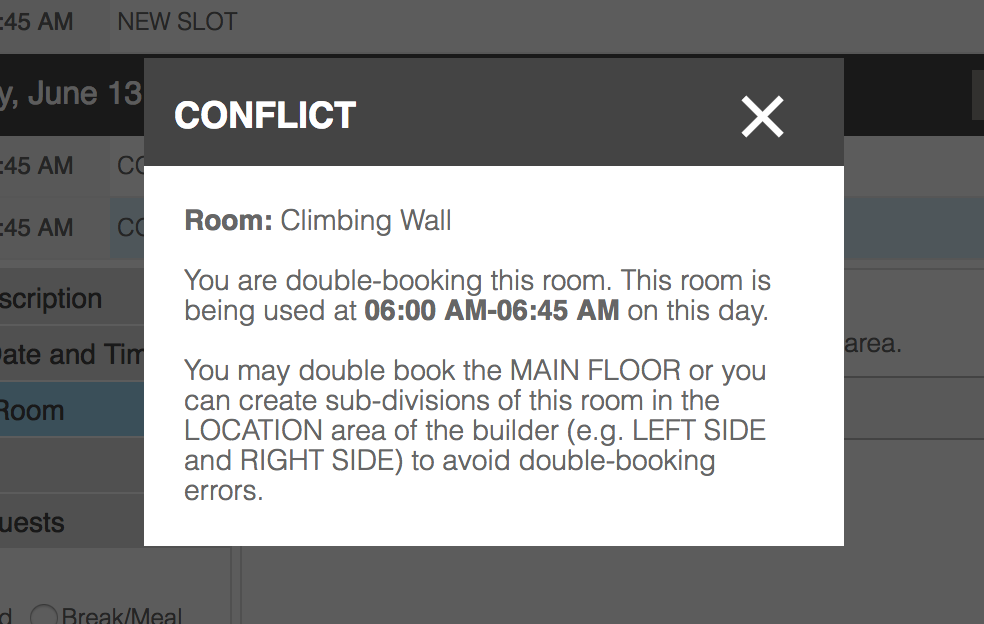 TRACK SETUP
Let's move on to tracks. Also referred to as "tags" in our system, tracks can serve a few different purposes for your event agenda. 
WHAT ARE TRACKS?
Before taking a look, let's talk a bit about tracks and why you would use them. In the traditional sense, an event track is a subject matter or top that describes a line of sessions/activities. Say you were running an educational seminar on the outdoors - different topics would be covered throughout the day.
Sessions are divided into blocks (i.e. 10am-12pm block). Each block would contain 3 different, concurrent session options. Each block contains 3 sessions, each session being a representative of a topic/subject.
Those topics would be the tracks - so if you (being an attendee) wanted to follow the "Rivers & Oceans" track, you would attend a specific session in each block that followed the Rivers & Oceans track. See? It's like a train track, guiding you through the appropriate subject matter pathway through the day.
CHECK THEM OUT
Take a look at this example below - this event has 7 different tracks being used in the agenda. On the front-end, the attendee can click to filter the agenda based on track:
This creates an interactive experience for the attendee - especially with large agendas, this is great! As an attendee, you can come to the web agenda, click your track and see exactly which sessions you need to attend and/or sign up for. Filtering is also available on the mobile app.
CREATE TRACKS
Click the Track Setup tool on the left and enter the Track Manager:
In the Track Manager, create new tracks, delete old ones and assign them to your agenda.
NOTE: any track that you create on any event will be saved across all events - tracks are saved on the affiliate/organization level. Major convenience! Of course, you don't have to use these tracks on every event, they are just there (in your library) for future use if you need. 
ASSIGN TRACKS
To assign to agenda activity slots right from the Track Manager, click the small calendar icon that is next to any track.  A modal will appear with a list of all agenda slots on your agenda. Just check the box next to any slot you'd like to assign the track to. Good to go!
The other way to assign tracks is to hop into the Agenda Setup, click into any activity slot and turn on a track (or multiple). 
Notice how you can turn on multiple tracks for any one agenda slot. This makes the track mechanism very useful for tagging activities (in conjunction with the filtering capability registrants have on the front-end).