Speakers can be added to your event in 2 different ways:
Manual Method: manually create speaker profiles that are not connected to user accounts. They can be set to display on your website and agenda.
Registration Method: capture speakers through actual registrations, keeping the speaker profile tied to a real user account.  Import their data and attachments from registration.
SPEAKER DATABASE
Before moving on, let's review a quick concept. If you click into the Speaker Manager tool >> then click the Add Speaker button in the upper right, you may already see speakers populate a list to choose from. You would see pre-existing speakers IF you had already created speakers for another event.
Speakers, like tracks, are created once and saved at the organization level. This means they are preserved in your own little library, available for use across any future event (regardless of the method through which they were initially created). This makes your life loads easier.
MANUAL METHOD
Click into the Speaker Manager tool >> then click Create New Speaker. A modal will appear allowing you to manually create a speaker. After creating the speaker, he/she will automatically be added to your event.
NOTE: even if you provide an email address when creating a new speaker profile manually, the speaker will NOT be tied to a user account within the system. If you need speakers to have their own account for registration, uploading content and other tasks, skip the Manual Method section and read about the Registration Method.
 Here are some other functions/capabilities in the speaker editor:
Upload a headshot
Add a program description/title and bio
Allow ratings (see below in this article for details on speaker ratings)
REGISTRATION METHOD
Now you know how to manually add a speaker to your database and event. Now, let's look at how you can get crafty and reduce your manual workload.
CREATE A REGISTRATION PROFILE
The first step in creating a registration capture mechanism for speakers is creating a registration profile for speakers (click HERE for more information on creating custom profiles). This essentially creates a custom pathway or form for registering only speakers. 
Click into the Registration section of the the Event Builder, then click Custom Profiles on the left. Click the Add Profile button. Now click the pencil icon button to edit the profile. 
NOTE: you'll need to create a dummy/free "Speaker Registration" item to turn on in the profile in order to activate it. Profiles need at least one item activated for it and registrants need to select  at least 1 registration item (that's how our system works). If you aren't using another attendee registration item, we recommend creating an Enhanced Item called "Speaker Registration" and not including a price, to fulfill this purpose.
Ok - you've turned on an item for the profile. Now look at the upper right - see that massive switch that says Default Settings? Click it. This will make the profile fully custom, so you can edit the other sections of the profile. Click into the FORM PROMPTS section....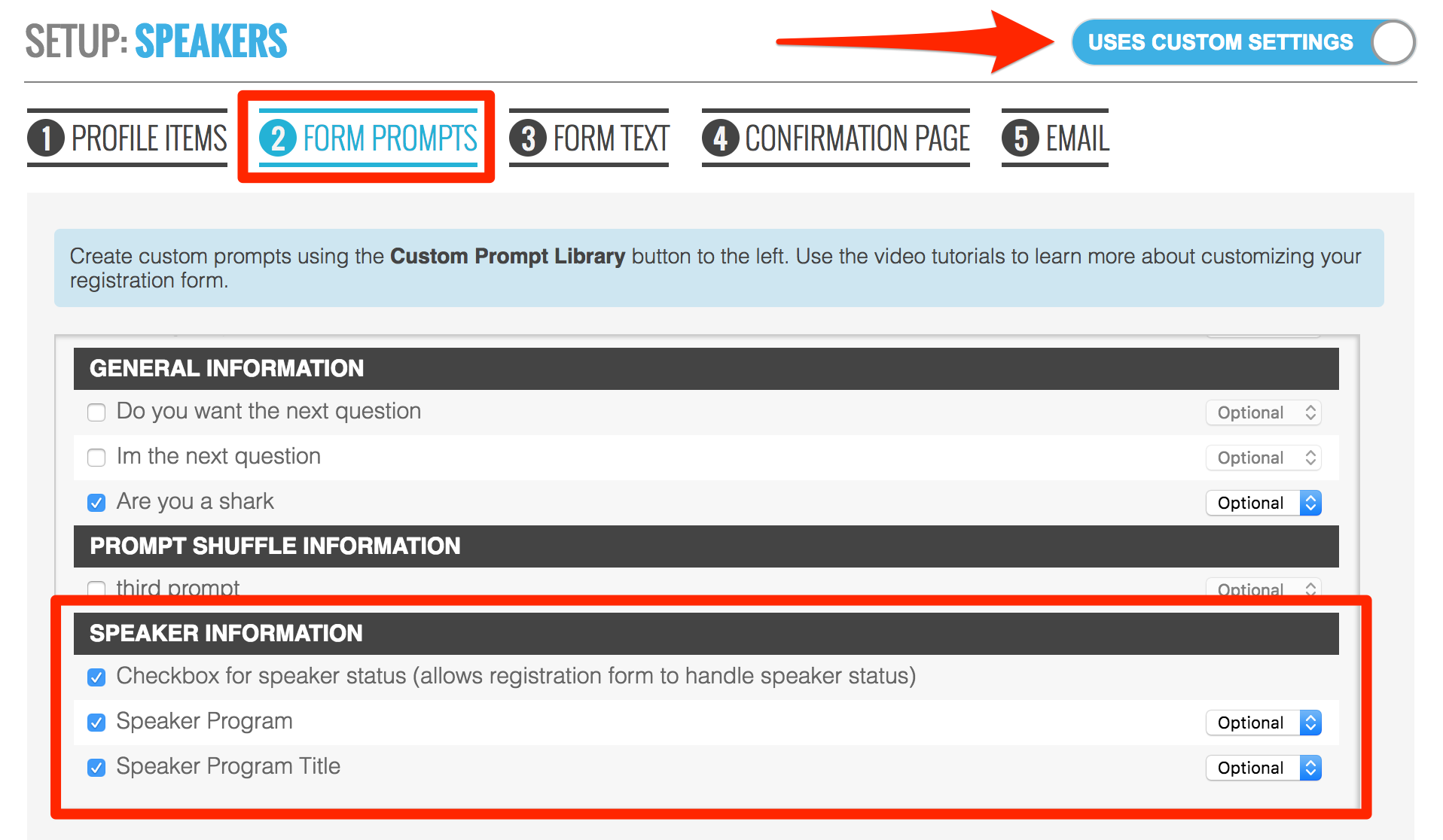 There are 4 key speaker prompts (the implications soon, you will see, young jedi). 
Bio
Checkbox for speaker status
Speaker Program
Speaker Program Title
Turn on these prompts for your custom speaker registration profile.
Now, scroll below the Form Prompt pick list and turn on the file upload portal, it looks like this:

Include a description and make the upload required or option. Ok. Let's see how this mechanism actually works. 
REGISTRATION
Let's put our speaker hat on for a moment and see what your speakers will see through registration. Now that you have a custom profile for speakers, they will have to self-identify as a speaker before entering registration. This will send them down the custom pathway you created for them (i.e. the custom profile). 
In the first section of the registration form, the first piece of speaker-capture-magic happens.....
Check out our first 2 speaker prompts:
1) Bio: prompts for your speaker bio - show it off!
2) Speaker Status Checkbox: this is the key to the Registration Capture Method for adding speakers to your database. The speaker is required to check yes or no (which ensures no speaker will go un-captured!). By checking yes, the system will flag the registration as a speaker and connect the user account (that is created during registration) to a speaker profile in your Speaker Manager tool.
Let's move on to the next section of registration - we'll find our upload portal:
As a speaker, let's upload the headshot and presentation document we want uploaded and published on the event site. 
Alright, onward!
In the next section of the registration form, we'll find prompts 3 and 4: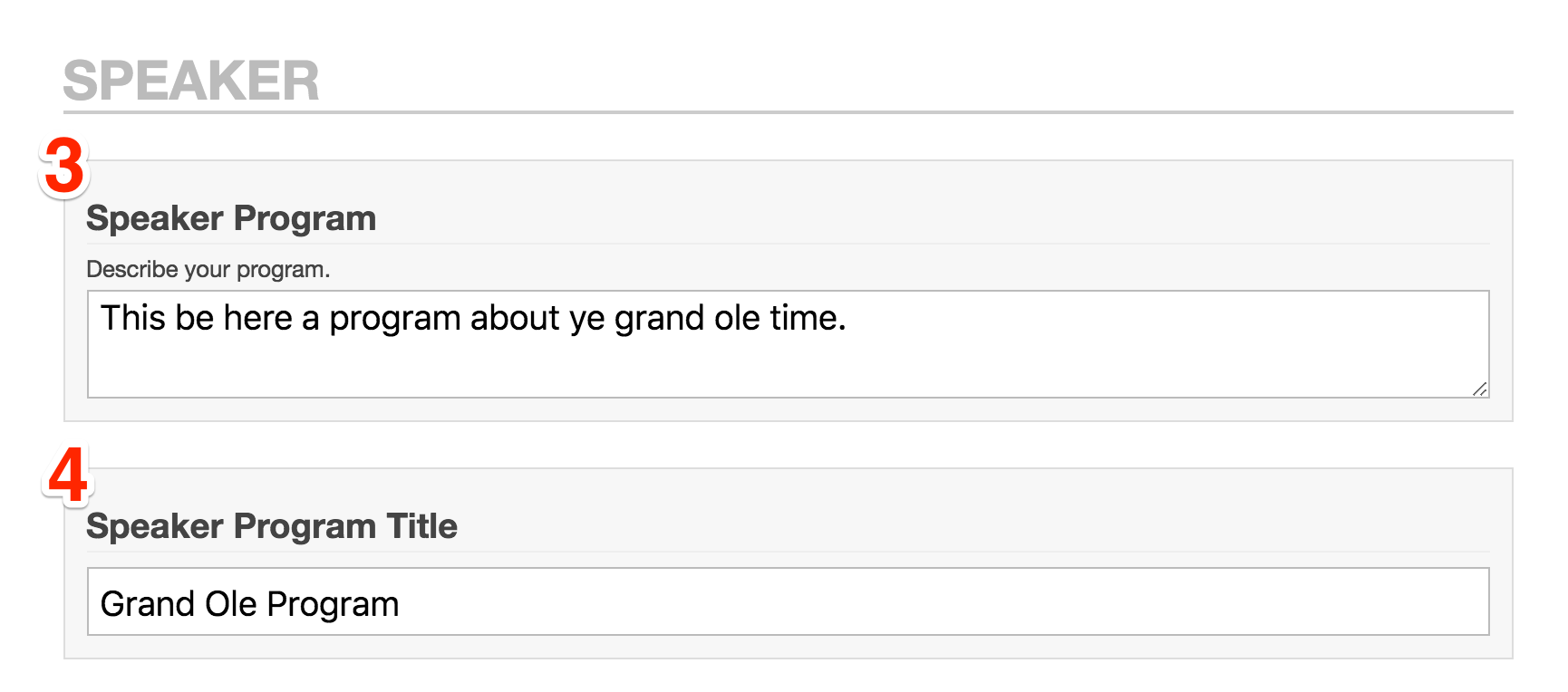 IMPORT YOUR SPEAKER
Let's take off our speaker registrant hat now and throw on our event host hat once again. Head into the Event Builder, click into the Agenda section and select Speaker Manager on the left. Click the Add Speaker button and scroll through your speaker library - you should see the new registrant! Once again, because the speaker click YES to the status checkbox at the beginning of the registration form, our system tied their registration/account to a speaker profile. Now, you can add the speaker to your event.
After adding, click the carrot icon to open the speaker editor for that profile and behold the power of importing:
Instead of manually inputting the speaker's information, pull it in from the registration form:
Click grab it here at the top left to pull in the headshot the speaker upload
Click to import the Program Title and Program Description
Below, click to import the Bio
At the very bottom of the speaker's editor panel, you'll see a little section for documents and ratings. Let's tackle documents.
SPEAKER DOCUMENTS
Let's continue with our example (using the Registration Capture Method for adding speakers). At the bottom of the speaker's editor panel (as stated just above), you'll see a thumbnail for any documents that were uploaded by your speaker during registration. 
To work with speaker documents, head into the Speaker Documents tool (in the Agenda section of the Builder, just below the Speaker Manager button, on the left side). You'll see the document that we uploaded through our speaker registration, bam!
You have a few options on this page regarding where you'd like to publish/display the speaker document. Our system will also generate a link to your document, so you can grab this link and hyperlink text on your site right to a particular speaker document. 
Notice in the upper right....if you're following the Manual Method of adding speakers, you can manually upload a new speaker document and associate with a speaker afterwards. 
NOTE: speaker documents (associated with a speaker) will always display with that speakers profile (if set to appear/show on the website), everywhere their profile displays. For example, if you have a speaker attached to multiple agenda slots and have their documents set to show, you will see those documents, along with the speaker, on every agenda slot they appear on.
SPEAKER RATINGS
OK grasshoppers....time for ratings. Climb back into the Speaker Manager tool, open a speaker's editor panel and scroll to the bottom - take a look at the ratings section:
CONFIGURE RATINGS FOR EACH SPEAKER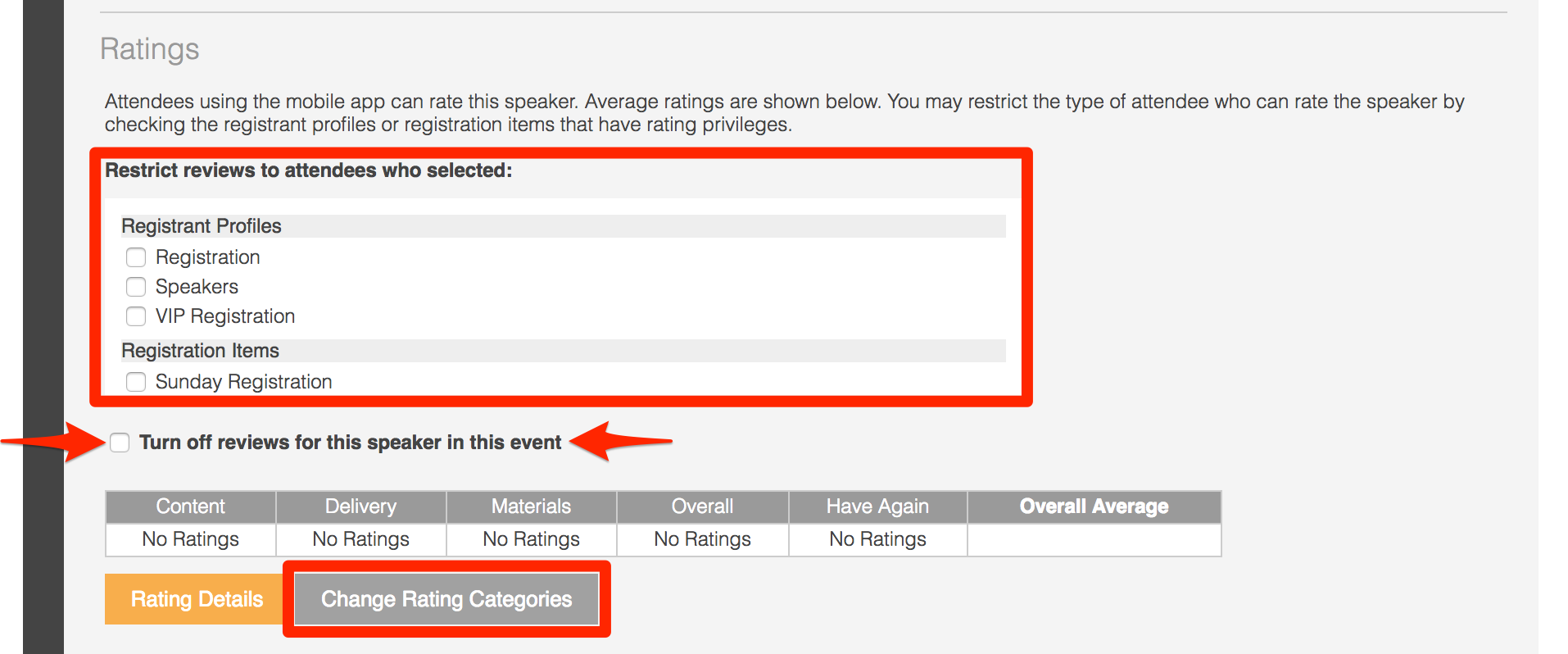 Use the pick list first to restrict reviews to certain attendees. You can restrict ratings for a particular speaker based on registration profile and by registration item(s) selected during registration. This is an EXTREMELY valuable tool if you plan to leverage speaker ratings - this way, you can limit ratings to the registrants that actually registered for that speaker's session! (Of course, the session would need to be created as a registration item.)
Below, at the bottom of the rating section, you'll see a small grid with rating category paired with the average score/votes received for each category. Note at the bottom, you can CHANGE the title of each category. Categories are rated on a scale from 1-5 stars. 
RATING SPEAKERS
Let's slip on our attendee hat. When it comes to actually rating speakers, there are 3 key conditions that must be met in order to be eligible to submit a rating for a speaker:
You must be registered for the event
You must be logged in to the mobile web app
You must meet any restrictions/requirements set by the host in the speaker's editor (explained just above)
See?? Our system has your back. You don't have to worry about spam ratings - we have you covered when it comes to this stuff (we really do think of everything don't we? Just say yes....). 
Let's have a look at what it looks like on mobile: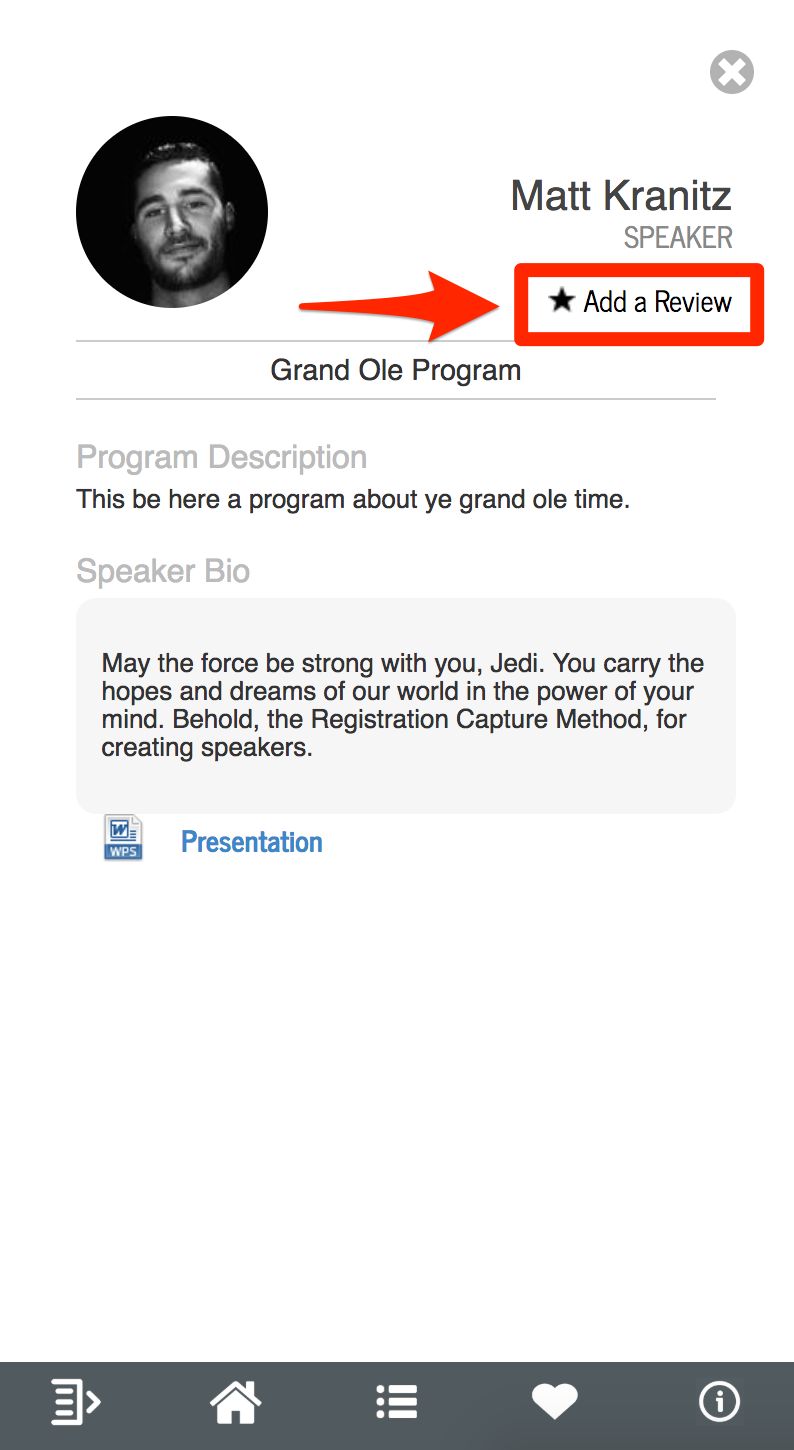 When registered, logged into the map and viewing a speaker's profile, click the "Add a Review" link at the top of their profile. You'll be taken to the review page, where you can submit ratings on each of the 5 categories, with 1-5 stars.