Testing your event's registration form before officially launching it to the public is a very critical step. We highly recommend doing a number of test registrations throughout the event build process.
Not only does testing ensure that the form is functioning properly and not missing anything important; testing helps you become intimately familiar with your registration process. A familiarity with your registration process is especially useful when supporting registrants through the process, most notably when your event involves multiple registrant types/profiles.
DESKTOP & MOBILE
Viewing your desktop site is simple. Click the eyeball icon either on the dashboard or within the Event Builder.
For more on ways to customize your event website, click HERE for a set of relevant help articles.
Try visiting your event website when logged out of the system. The resulting viewpoint will give you the perspective of a brand new visitor to Eventsquid that is registering for your event.
MOBILE
Since our mobile application is web-based, you do not need to download the app. Simply use the link provided in the Event Builder, just like you would any website:
In the Builder view, click the small chain link icon at the top right
On the following page, you'll see links to your registration forms, event website an mobile web app
Feel free to test your mobile application on a mobile device or event your desktop advice. The URL will function the same (although viewing the app on desktop will result in a distorted view; you can setup a mobile frame of view on your desktop browser by using the developer console).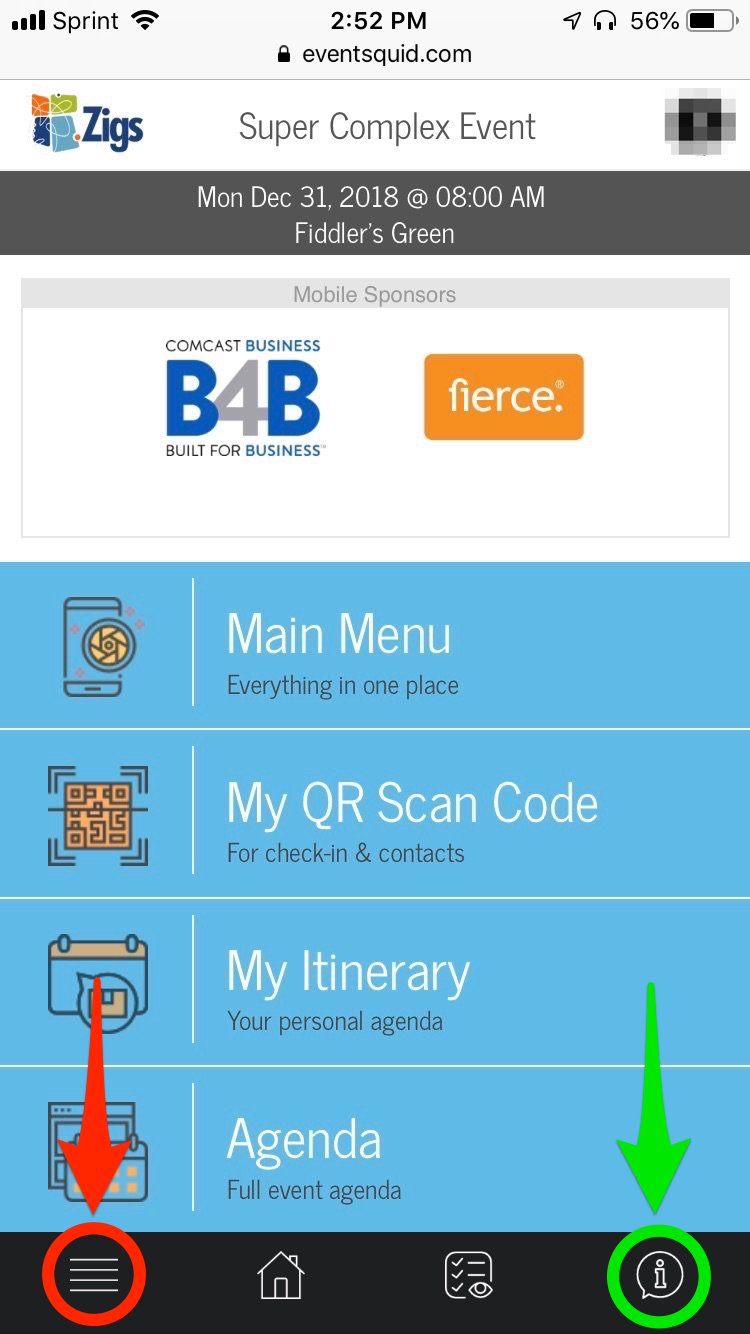 By click the "i" icon in the bottom right corner of the mobile app, you can return to desktop view.
If your event involves any of the following features, you will need to be registered for your event and logged into the mobile app in order to use them:
Saving activities to their personal itinerary
Rating speakers
Rating sessions
Live voting
TESTING PAYMENT
In the Event Builder, click the ACTIVATE & PUBLISH tab in the upper right corner. Then, select the Activation & Payment Methods tool on the left.
Our system provides 3 methods of payment for registrants, which you may activate in any combination or in isolation [for any given event]:
Pay Online
Pay at Event
Pay by Mail
2 of these methods allow the user to checkout without payment. Keep this in mind when testing - be sure to give them all a shot.
PAYMENT TESTING
If you are launching your very first event with us and it allows registrants to pay online, it is a very good idea to test paying online. This way, you can be completely comfortable that funds will make their way right through your connected payment processor and into your bank account.
Here is an easily-implemented testing protocol that you can employ to ensure your payment processor is working:
Create a new Registration Item for $1
If using Custom Profiles, place the item on one of them OR create a new profile called "Testing"
Activate registration and activate your payment processor (in the Activate & Publish tab)
Register and pay
RE-TEST REGISTRATION
After successfully completing/submitting a full test registration, you will notice that you cannot register yourself for the event again for a subsequent test (you only have the option to modify your existing registration).
To test again, you simply need to delete your existing registration from the Event Dashboard. To do so:
Open the Registered Attendees list for your event
Find your name, then push the red "X" icon to the left of it

Confirm deletion, after which you can register again