You will us say this time and time again. At risk of sounding like a broken record, here it is again....
IT IS CRUCIAL THAT YOU TEST YOUR REGISTRATION BEFORE LAUNCHING YOUR EVENT!!
It is our idea of success. It is our mantra. Our vision. Our....OK you get it. But seriously....testing registration is the best way to get a true sense of how your registration experience will present to your registrants. It's your opportunity to see it all from the attendee's POV.
WAIT....WHAT DO YOU MEAN BY TESTING REGISTRATION?
Glad you asked. There are two key ways to test your event:
1) Take look! View your mobile app and desktop website with great attention to detail. Go through every tab, scroll down every page, comb through it all. 
2) Give it a go! Complete multiple test registrations through your form. If you find that you need to make changes, make them and return for another test. If you are leveraging custom profiles, then do at least 1 test registration in all of them.
Let's talk about both ways and what best practices are.
TAKE A LOOK!
So you have a mobile app and a desktop site. By now, you are aware that the mobile app is almost a copy of your desktop site, just optimized for mobile.
DESKTOP SITE
Testing your desktop site is simple. Just click the eyeball icon either on the dashboard or within the Event Builder. 
Take a look at each tab. Scroll all the way through each page in great detail. Make sure you're happy with it!
For more on ways to customize your event website, click HERE to see our help articles on the matter. 
MOBILE APP
Since our mobile application is web-based, you do not need to download the app. Simply use the link provided in the Builder, just like you would any website:
In the Builder view, click the small chain link icon at the top right
You can copy the link to the mobile app at the top of the page
You can paste this link in a new tab on your computer or text the link to yourself to view on mobile. 
QUICK TIP: visiting the link to your desktop website on a mobile device will automatically route you to the mobile app! Give it a shot...
Once on the mobile app, cruise around! Make sure to use the main menu icon (see screenshot below) to check out all of your tabs.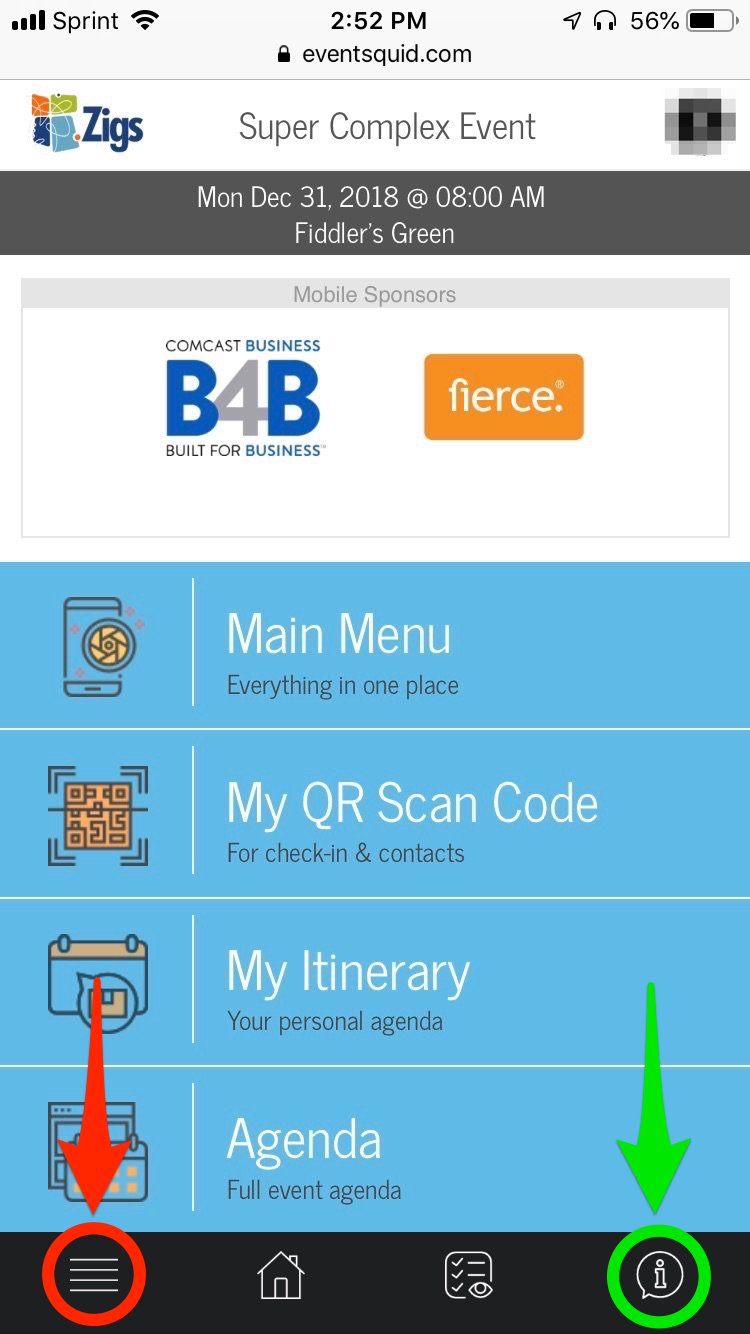 See the "i" icon at the bottom right? Push it. This will display instructions on how to use the mobile app, as well as a way to:
1) Return to the desktop version of the site
2) Log out!
This will be important for testing. Let's say you're testing on your desktop computer and you visit the mobile app using your internet browser. Your browser will create what's called a session variable - this essentially locks you into the mobile app view of the site.
If you need to return to desktop after testing, just hit the "i" icon, then go back to Desktop! It's that easy, you'll never be stuck. 
QUICK TIP: Try visiting your mobile website on your phone. If you are logged into the system, log out and check out how our system handles brand new users / visitors. You'll notice that we prompt new users to login if they are already registered; if not, then they have a way to register right on the mobile app. 
A few features are also only available to those registrants that are logged in AND registered, prime among them being:
Saving activities to their personal itinerary
Rating speakers
Rating sessions
Live voting
Test them all! 
GIVE IT A GO!
Alright, onto the actual registration experience. This is the most important part of testing. Registration is responsible the operation of your entire event....collecting funds, capturing data, reserving attendee/exhibitor spots, etc.
You can imagine why it's important to make sure everything is ship shape!
TEST REGISTRATION
Testing the registration form is as easy as clicking go. Preview your website (you can test on mobile and desktop....of course, we recommend doing both) and register! Check out each profile. 
Upon completion of registration (nope you don't have to pay yourself......obviously), head to your dashboard. Check out what your registration looks like on the Registered Attendees list. Take a look at your reporting options (chief among them the Custom Report) to see how your data will present on the other side of registration. 
RE-TEST REGISTRATION
Ok - so at this point, you've gone through one of your registration forms (or the only one if you are not using custom profiles).  Now, you need to test again....but you can't, since you're already registered!
Actually, you can! Head over to the dashboard and open the Registered Attendees list for your event. Find your name, then push the red "X" icon to the left of it. Confirm deletion and there you have it! Good as new. You can run through registration again and again....and again.