Deciding on a check-in strategy can be a tad overwhelming. With so many different types of people attending, it's no easy task determining the strategy that will provide the best user experience. Some attendees are more savvy than others; some have Android phones, some with iPhones; registrants will use the front desk while exhibitors will need an alternate entrance. 
That's why we give you a few different options that are seamlessly integrated with registration and clean-cut to boot.
EVENTSQUID CHECK-IN TYPES
In order to best understand the methods of registrant check-in, it is important to understand the 2 different types of check-in stamps. 
1) EVENT CHECK-IN
The most basic type of check-in stamp is one for the overall event. There can only be one of these types of stamps for any given registrant. Additionally, there is not a check OUT for the overall event.
You can see if an attendee has been checked into the event by looking at their record on the Registered Attendees list, which is located within the Event Dashboard.


This is a simple way of recording someone's attendance to the event. Accessing someone's registration details panel will also reveal the check-in stamp:
2) ITEM CHECK-IN
Ever want to check attendees into individual activities or sessions? How about multi-day check-in? Registration Items also give you the ability to capture check-in data.
Think about items as an alternative way to capture a time stamp for a given registrant. Now, aside from the overall event, you have another dimension by which you can record someone's attendance. 
For example, if a registrant is signed up for 3 breakout sessions (i.e. 3 registration items), you have 3 things you can check the registrant into and out of.
Take the example below - this registrant is signed up for 3 days of "Event Access". Each day is represented by an item (created by the event host - this, of course, would be your decision in how the event registration is structured). 
You can see below that each item has the ability to be stamped for check-in and check-out:
Take note of a couple things in the above screenshot.
1) You can capture a check-in stamp and a check-out stamp for each individual item (DAY 1 ACCESS shows this)
2) There is a manual way to stamp someone's item for check-in and check-out, right from the registrant details panel (accessed by clicking the registrant's name on the Registered Attendees list, on the dashboard). 
With a thorough understanding of the types of check-in data you can capture for a given registrant, you will start to structure your registration around your business requirements ahead of time. Again, here are two common examples that we touched on above:
1) I need to check my registrants into each breakout they attend for credit hour reporting - this means I need to create registration items for each breakout so I can capture that data.
2) Our event has multiple days - I need to track which days a registrant attends. in order to carry out multi-day check-in, I will need my registrants to select registration items (during initial registration) for each day they plan to attend.
Now, let's take a look at HOW we can check people in. 
TABLET CHECK-IN
Envision a set of slick-looking tablets on rotating pedestals. Registrants can walk up to the desk and type in a few pieces of information and voila! They are checked in. 
ENTER TABLET CHECK-IN
Go to your Event Dashboard and open the live event controls. You'll see a blue CHECK-IN button on the far left side of the event stripe. Click this button:
A window will open with instructions on how to operate tablet check-in. To activate, simply click the "Open Tablet Check-In" button under step 3 to activate it. A new window will open up - we recommend using a tablet to display the tablet check-in window. 
On this screen, the registrant simply has to enter two pieces of information:
LAST NAME
CONFIRMATION # (this is located at the top of the confirmation email)
Once they enter these pieces of data and click the CHECK-IN button to confirm, the registrant is finished and they are checked into the overall event.
ADMIN CHECK-IN
Admin check-in places the power of attendee check-in into the hands of your on-site volunteers and event staff. However, this does require that event staff have an admin login and we'll get into that shortly. 
There are 2 ways an admin can check a registrant into something:
1) QR code scan
2) Registrant lookup
QR CODE SCAN
A registrant can obtain a QR code for the event...
With a badge (that you generate)
Via the confirmation email (if you allow, there will be a button in the confirmation email)
On the mobile app (if you allow, there will be a button on the home page of the app) 
With this in mind, there are multiple places an event staff member can request that an attendee pull up their QR code for scanning. 
Once scanned, the admin will be presented with a screen that requests they enter an administrative ID. 
QUICK TIP: Your administrative ID can be found on the Event Dashboard. Navigate to the MANAGE ORGANIZATION tab and click AUTHORIZED USERS. Your ID will be next to your name. If the event staff member does not have an account on Eventsquid, you may share your own ID with them for access.
Once the event staff member enters the ID, they won't have to enter again (until their browser session expires after a long period of inactivity). When scanning registrants, the admin will both check that registrant into the overall event (if they haven't been checked in already) and gain access to that attendee's registration selections. 
You'll see that the screen on the right is a standard view of a registrant that has been scanned. This screen shows:
The status of the attendee's balance
Event check-in time
Registration Items
The admin can tap any item to check the registrant into that option. Tapping that item again will check the registrant out of that item.
REGISTRANT LOOKUP
The second way an event staff member can check someone into and out of individual registration items is via the Check-In App lookup function.
After scanning a registrant's badge, you will see a small SEARCH button at the top right corner of the screen (image below) - tap that button and you will be led to the attendee search utility, where you can look up registrants by their names. 
You can also access the check-in search utility right off the bat (i.e. before having to scan someone's QR code) by logging into the mobile app. This, of course, would require the staff member to have a user account and an admin user ID. The Check-In app can be accessed through the main menu of the mobile app (second screenshot below).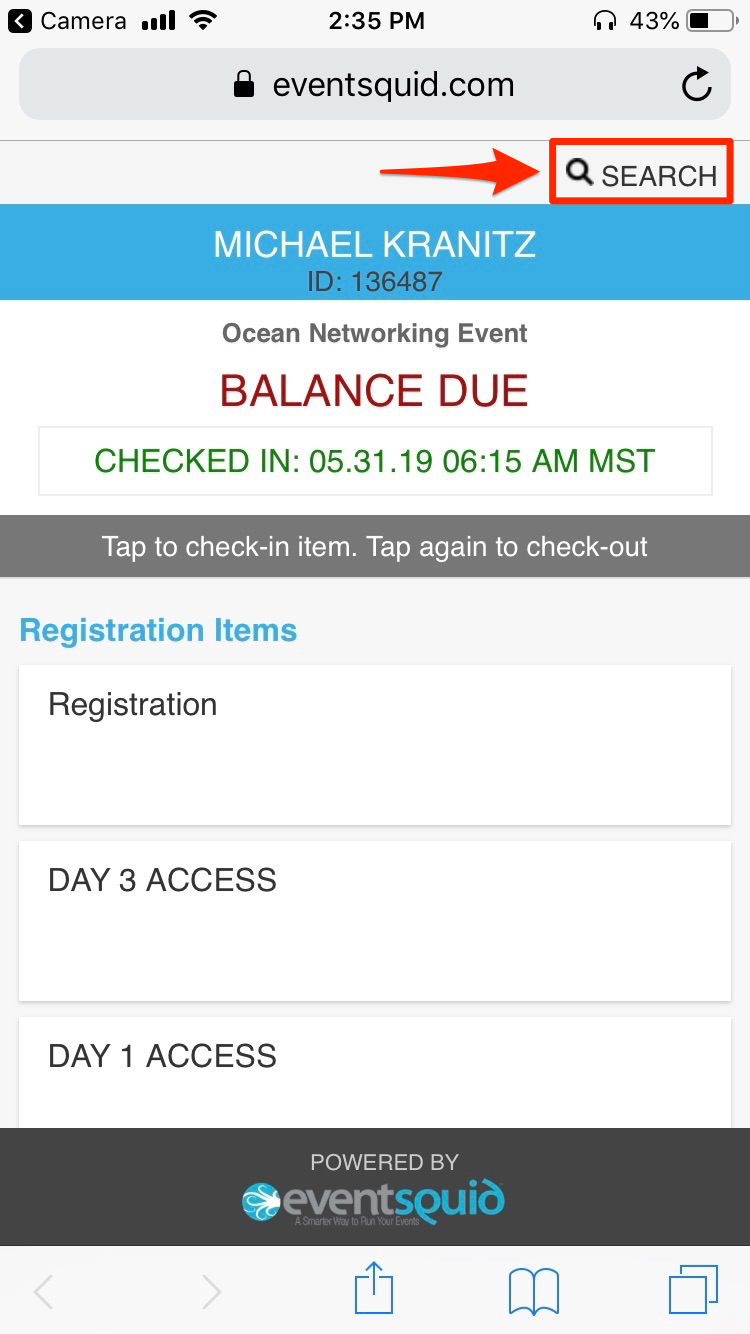 SELF CHECK-IN
Instead of your on-site team bearing the majority of the check-in responsibility, you can offload this task onto the registrants themselves by activating self check-in.
CONFIGURATION & SETUP
The self check-in mechanism is designed to allow registrants to check into and out of activities. Now, with that freedom comes great responsibility. The goal of check-in is to capture accurate attendance data.
You especially don't want the scenario where registrants are checking into sessions that offer credits for attendance, when they didn't actually attend the session!
That's why our system requires you to designate a unique check-in and check-out code for every single registration item that you'd like to offer self check-in for. 
To configure, navigate to the Registration Items tool in the Event Builder. Click on your item to open its settings panel. Click the ACCESS tab on the left and you will see for self check-in is configured - take a look at the screen below.....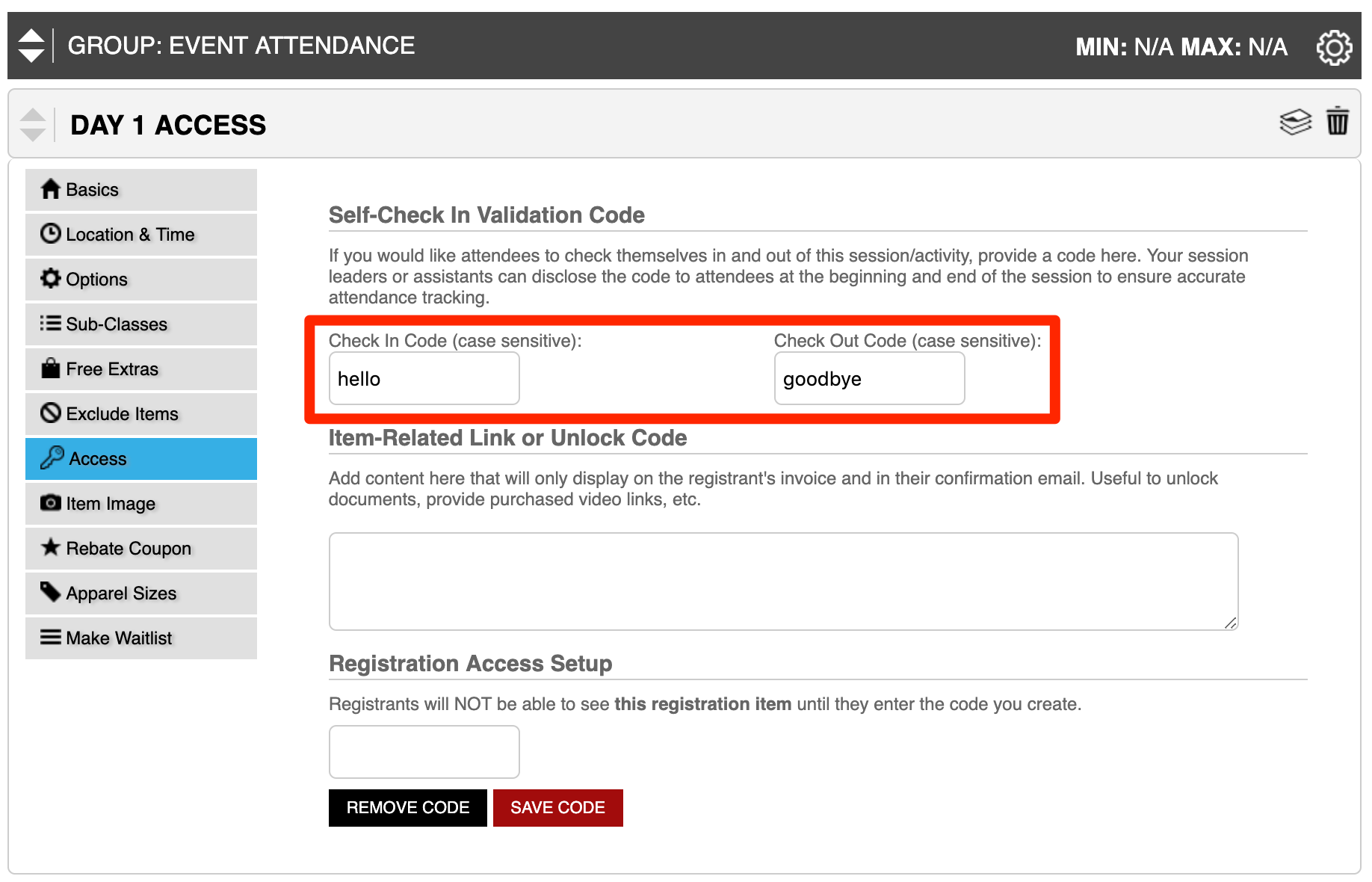 The first step in configuring self check-in is to designate check-in and check-out codes. Again, you'll need to do this for every registration item that you'd like to allow self check-in on.
ACCESS
Once setup, you will be good to go! Now, registrants that picked self-check-in-enabled items will see a green SELF CHECK-IN button at the top of the main mobile menu:
After tapping, the user will be taken to a screen with all registration items that they have that are also available for self check-in. Tapping either button will prompt the user to enter the corresponding code. 
STRATEGY
The goals of self check-in are:
1) To offload the work of check-in on the registrant, which allows the attendee to interact with the app more
2) Validate real attendance of a specific activity or session
The codes enable you to do this. A common strategy to manage self check-in is to distribute codes to session / activity leaders prior to the event start. This way, leaders can distribute codes before and after the session ends. In other words, the only way a registrant can obtain the proper codes for check-in is by actually attending the activity. Go figure!
CHECK-IN DATA REPORTS
So your event has concluded. It was a tremendous success and check-in went as smoothly as you ever could have imagined. 
Now, you need to access the time stamp data. Who showed and who didn't!
There are a couple of options when it comes to accessing your check-in data. Navigate to the Event Dashboard and click the reporting icon on top of your event stripe. 
CUSTOM REPORT
From the reporting menu, select the Custom Report tool at the top. The left side of the Custom Report tool will show you all data fields available for analysis. Scroll down and towards the bottom you will see a category called CHECK-IN DATA. 
Expand the category and you will see a number of fields for check-in/out data. 
Item-Specific check-in/out data
Overall event check-in/out data
CEU TRACKING REPORT
From the reporting menu, select the CEU/Volunteer Tracking report option. This report is meant to line up courses alongside their corresponding CEU hours and when each registrant checked into and out of that session. 
Take a look!