TRAVEL FIELDS & DATA
Registrant data is captured in Eventsquid through what we call prompts. Some are "standard" and are already "built-in" so to speak. When needed, you can create your own Custom Prompts in the Event Builder to address your specific data needs.
Prompt data can be entered into form prompts outside of registration as well. This can be done manually by an event host and the attendee.
Learn more about the Travel Import utility HERE.
Learn how to communicate travel itineraries HERE.
TRAVEL FIELDS
Enter the Event Builder, then select the REGISTRATION tab at the top. Click the Default Registration Form tool on the left.
At the top, make sure FORM PROMPTS is selected. Below, you will see a scrollable window with a list of all available prompts in your library. Some, as mentioned previously, have already been "built-in" to the system. Others are prompts that you created in the Custom Prompt Library.
Prompts that are travel-specific will all appear under the TRAVEL INFORMATION category header.
CUSTOM PROMPT LIBRARY: ADDING NEW TRAVEL FIELDS
You can add new travel fields to the system by using the Custom Prompt Library tool. Navigate to the REGISTRATION section of the Event Builder, then select the Custom Prompt Library tool on the left.
Once you are in the Custom Prompt Library, click the green Create New Prompt button. In the new prompt creation window, make sure to:
Designate the category as "Travel" (there is a pre-determined category name for it)
Check the box TRAVEL FIELD
After a new prompt is generated, you can see these two fields within the prompt's editing panel. So, if you ever need to modify an existing Custom Prompt so that it is a travel-specific field, you can find these settings for adjustment by clicking the prompt to open its settings panel: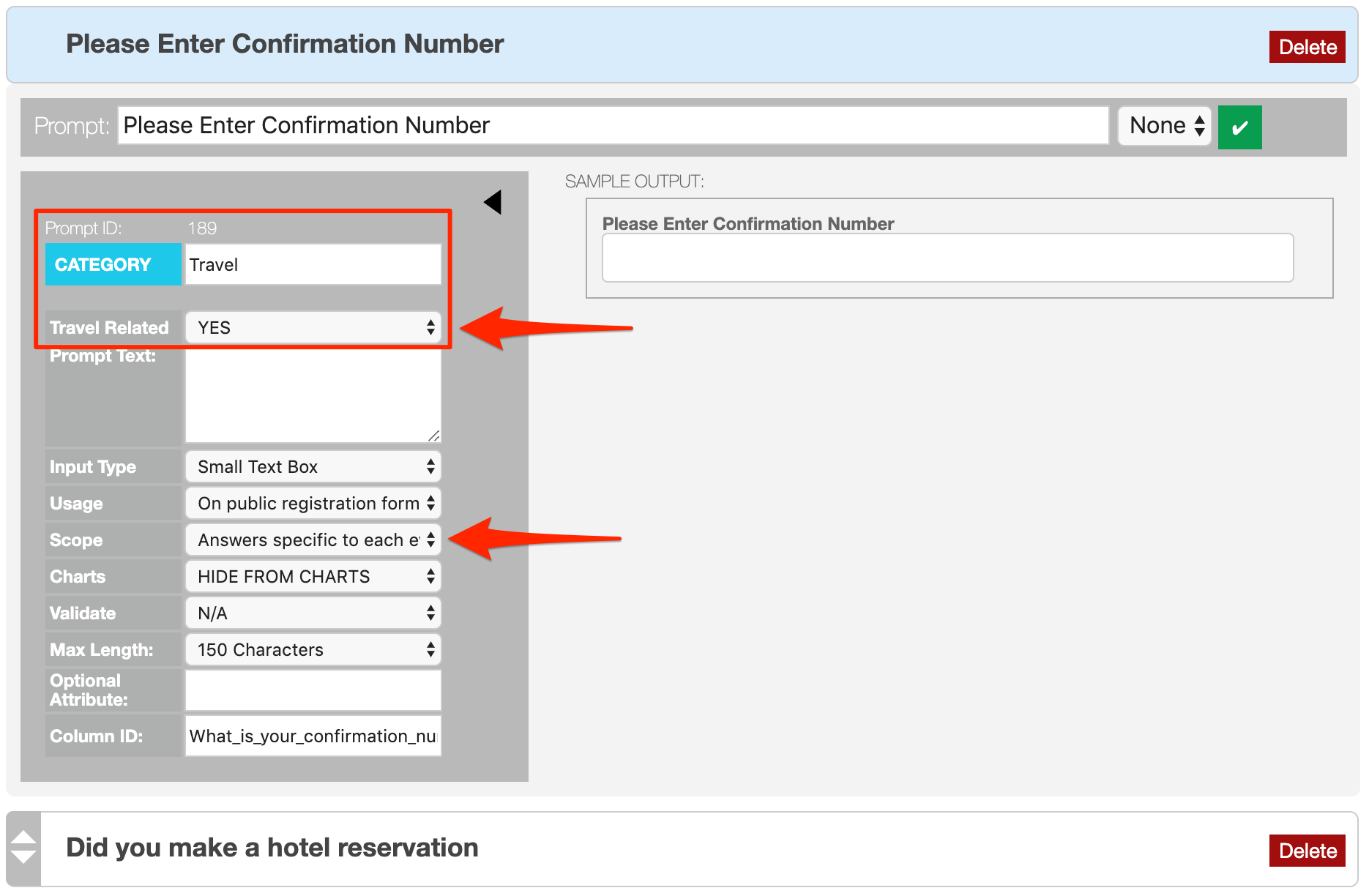 NOTE: there is another field inside the Custom Prompt called "Scope". This allows you to designate whether a prompt's captured registrant data should be:
1) saved specific to each event (i.e. each time the prompt is presented to a user on a subsequent event should require a new entry by the registrant/admin), or;
2) saved across all events (i.e. any data entered on behalf of this registrant should be saved across all events that this prompt is a part of).
This becomes important when considering the type of data you are capturing. Some travel fields (i.e. Frequent Flyer #) shouldn't change from event to event. Others (i.e. Confirmation #) should be specific to each event they are a part of.
MANUALLY MODIFYING TRAVEL DATA
Travel data can be manipulated manually by either the event admin or the registrant themselves. This comes in handy when you don't need to update a vast number of attendee records with new travel data.
Also, as registrants book their own travel, they can login to their accounts and update their itineraries accordingly.
The Travel Import tool provides you with an alternative way to facilitate the data capture process, for a set of prompts and multiple registrant records all at once. Click HERE to learn more about that process.
REGISTRANT DETAILS PANEL
As an event admin, you can manually modify a registrant's travel information. First, access the Event Dashboard. Click the name of your event, then click the green Registered Attendees button. Find the name of the registrant and click on it. This opens the registrant's Details Panel:
On the left side, you'll notice a tab for Travel Information. All travel-designated prompts will appear in this panel.
For one-off attendee data adjustments, this works quite well and is convenient. Rather than executing an entire upload in order to update only a single registration record, your admin can go in and manually update the needed fields right in the registration record on the dashboard.
MY EVENTS AREA
Registrants can also update their own travel information by accessing their Eventsquid account. Once logged into their Eventsquid.com account, they need to click their name in the upper right corner. From there, select the MY EVENTS option from the dropdown menu.
Below, they will see a list of all events they have registered for (if modifying someone else's information, use the My Events dropdown at the top of the page to highlight registrations you filled out on behalf of someone else).
Once the registrant locates the event they are attempting to modify data for, click the yellow DETAILS button next to the event name. Then, select the MODIFY MY INFORMATION link.