Take a look at the far right side of the Event Builder main menu, at the top. You'll see a green "Activate Registration" button. This is your power switch. Turn on registration, set open/close dates and decide how registrants can pay. 
Let's take a look at the 3 main sections on this page:
REGISTRATION TIMES & DEADLINES
Set deadlines and allow/disallow registrants from altering their registration.
OPEN & CLOSE DATES
Use this section to decide when to open registration for attendees and when to close registration. Note that if you are unable to extend your registration close date beyond a certain point, this most likely means your event end date is in the way (the system will not allow you to extend the registration close date beyond the end date of the event).
POST-REGISTRATION MODIFICATIONS
Although seemingly out of the way, we now get to a very important setting. There are two variations of post-registration modifications that an attendee/registrant can make:
1) Modify Responses to Questions: registrants can return after completion (at ANY point in time) and change their responses to all form prompts you asked in your registration form [UP TO the end date that you designate here]
2) Modify Registration Selections: allow/disallow registrants to return after completion (at ANY point in time) and change their registration item selections [UP TO the end date that you designate]

Registrants CANNOT deselect registration items that cost money - only free items. They CAN add items when modifying, that cost money
Registrants CANNOT, however, independently remove items (free or with a cost) that were included free based on the selection of another item
When adding to their balance, a registrant will be prompted to pay the increase in balance just like any other transaction
This is to protect you from under-the-radar refund needs
Here is how a registration would modify their registration:
Registrant logs into Eventsquid.com
Clicks name in upper right corner
Selects My Events from the dropdown
Locates the event and pushes Details button
In this section, the registrant will see either just the option to "Modify Responses to Questions" or both that and the option to "Modify Registration Selections".

Click into either, then confirm the changes! As an event host, you will undoubtedly receive numerous questions of registrants as to how they may go about altering their registration after confirming it. 
REGISTRATION METHODS
The Registration Methods section of the Activate Registration tool will allow you to decide WHO is being registered. Oftentimes, it isn't as simple as you sitting down to register yourself....most of the time, it is prudent to allow your event to handle the registration of a 3rd party. The person at the keyboard isn't necessarily the one attending your event.
SUB-ACCOUNT REGISTRATION
Sub-account registration is typically used in the case of a parent registering a minor. 
What is a sub-account? A sub-account is someone that doesn't have their own email address and requires a master account/email register them for the event. Recall, every event registration needs an account and every account needs an email. Thus (by way of the Transitive Property), all registrations need an email! That's how we record data for a registrant. 
Now, there are other instances in which you may want to use sub-account registration (e.g. maybe a full company team is registering and doesn't want to enter full account information for each). However, the caveat to activating sub-account registration is that the sub-accounts won't be accessible via email. That means all communications and confirmations/invoices will go to the master account and not the actual registrant. In the case of a parent registering a minor, this is ok. In other instances, however, this presents difficulties. 
NOTE: There are a number of ways to capture team and colleague registrations without the use of sub-account registration (including Guest Registration and traditional 3rd Party registration, which is described below).
TRUE 3RD PARTY REGISTRATION
The "true" 3rd party registration method allows someone to register someone else using THAT person's email. This is an excellent way to allow team registration, colleague registration, spouse registration, etc. The possibilities are endless! Hazzah!
Oftentimes, we see event hosts looking for a way to allow registrants to register additional people, whether they be guests, colleagues or spouses. Certainly, our Guest Setup tool is an excellent way to accomplish this; however, you may not need to introduce the complexity of formal guest registration to achieve the effect you want. That's why we often recommend the host turn on 3rd Party Registration.
Take for example the case in which a conference requires a full registration from each attendee. An executive assistant from a company sending attendees to the conference may be tasked with registering a group of multiple colleagues. 
With 3rd Party Registration activated, the EA can register all colleagues. Furthermore, she can register them all independently OR within the same shopping cart. Either way, each attendee will have their own account, invoice and unique registration. Before checkout, the EA will see the following: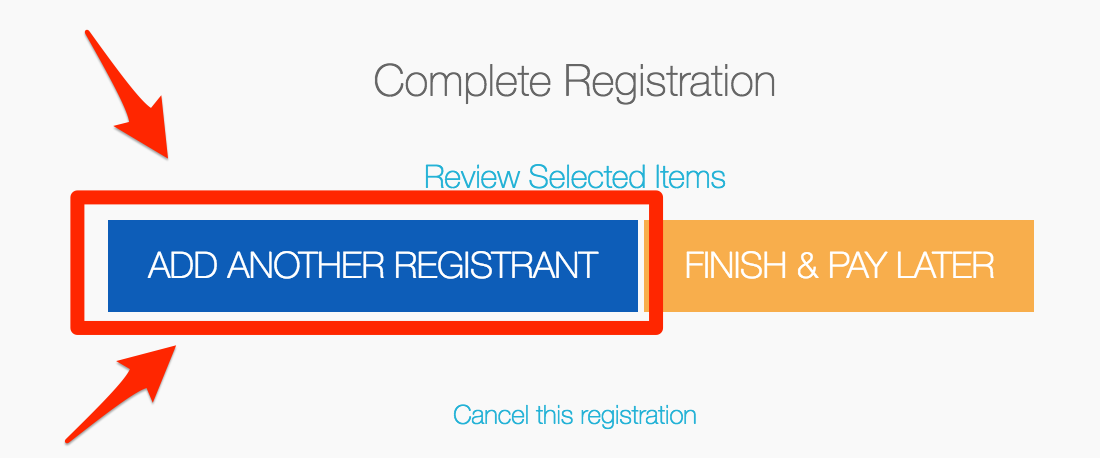 The EA can continue looping back through the registration form, entering new registrants each time.  
REGISTRATION ACTIVATION & PAYMENT
The metaphorical power switch. This final section kicks everything off. Turn on registration, determine how attendees will pay and even set a designated currency for payments.
ATTENDEE VS EXHIBITOR VS TICKETS
First, let's make sure we understand the difference between the 3 different registration types. The biggest point to make about these 3 types is the fact that they are separate mechanisms within the system. For example, if you are using Custom Profiles, you are using the Attendee Registration tool. EVEN if you have a Custom Profile FOR exhibitors....you're still using the Attendee tool. 
Exhibitor Registration and Ticket Registration use designated tools, with the Registration section of the Event Builder, to setup those experiences. More often than not, we will see events setup solely with the Attendee tool - it is the most flexible, customizable and intelligent of the 3; however, Exhibitor and Ticket Registration were built for specific circumstances and can help a tremendous amount when used correctly. 
PAY ONLINE
You may only permit registrants to pay online if you have a payment gateway connected to your Eventsquid affiliate account. Think of your payment gateway like the middleman between the registrant's payment and your merchant bank account....Eventsquid does NOT retain any credit card information and simply offers the ability to connect your payment gateway via API to your registration. 
To connect a payment gateway:
Go to your Event Dashboard
Click the Manage Organization tab at the top
Select Payment Processing
Now click the gateway you'd like to use out of the available options
Enter API credentials for connection
A great way to test a payment gateway after connecting and turning on for your event is to actually use it! Create a registration item on your event with a very small price (i.e. $2). Now, run through registration like a registrant would and actually pay! Once working, you are good to go.  
Another thing to note! If you turn on the ability to Pay Online in addition to another offline payment method, your registrants will see another option by default: Pay Online Later. Your registrants can select this, complete their registration and return at any later point to pay their balance via credit card online.
You can instruct your attendees to simply click the link in their confirmation email (to pay balance online), or they may follow these steps:
Login to Eventsquid
Click name in the upper right corner
Select My Events from the dropdown
Find the event name and click Details
Click "Pay My Balance"
The link to pay will be at the bottom of their invoice. 
PROCESSING FEE
You can add a processing fee to your Eventsquid registrant transactions. Furthermore, you can even decide whether you want to apply that fee to all transactions, or credit card transactions EXCLUSIVELY. Boom!
The processing fee will show up on the registrant's invoice (if applicable to their transaction). 
OTHER PAYMENT METHODS
You can also elect to allow registrants to pay via other, offline methods. For checks and PO's, you can include payment instructions - just click the Edit Payment Info link on the left:

This information is customizable per event. However, for those of you that would like to keep this information the same for all events, you can setup a default from your Event Dashboard. Click into the Manage Organization tab, then select Registration Defaults on the left. You can set default check payment instructions.  
The check payment instructions will appear atop the registrant's invoice, as well as on the confirmation page (there will be a link for the registrant to click).