The ACTIVATE & PUBLISH tab inside the Event Builder groups all of your event activation, deadline and payment settings in one section.
Click the tab to access each tool in this section - read below to learn about each tool. 
TIMES & DEADLINES
This tool is responsible for 2 main objectives:
Set the dates at which registration should open / close to the public
Set the dates at which registration modifications should be prohibited
OPEN & CLOSE DATES
Use this section to decide when to open registration for attendees and when to close registration. Note that if you are unable to extend your registration close date beyond a certain point, this most likely means your event end date is in the way (the system will not allow you to extend the registration close date beyond the end date of the event).
POST-REGISTRATION MODIFICATIONS
There are two variations of post-registration modifications that an attendee can make:
1) Modify Responses to Questions: registrants can return after checkout and change their responses to all form prompts you asked in your registration form.
2) Modify Registration Selections: registrants can return after checkout and change their registration item selections so long as those changes fit within the following guidelines:

Registrants CANNOT deselect registration items that cost money - only free items. They can ADD priced items when modifying, however. This is to prevent unknown refund requests
Registrants CANNOT remove items that were included free during initial registration
Registrants CANNOT add/remove an item that is connected to guest registration
Registrants CANOT add/remove an item that is connected to booth registration
A registrant can modify their registration using a few different pathways:
User logs into Eventsquid.com >> accesses the MY EVENTS area
User (signed in) returns to the event page >> clicks to register >> selects "Modify my Registration"
User clicks the registration modification link within their initial confirmation email
METHODS: WHO CAN REGISTER?
When registering for an event, the person at the keyboard isn't necessarily the one that is actually attending your event. The Methods tool allows you to enable alternative / third party methods of registration so that attendees can register on behalf of others. 
There are two offered types you can enable to let someone register someone else:
1) SUB-ACCOUNT REGISTRATION METHOD
Sub-account registration is typically used in the case of a parent registering a minor. 
What is a sub-account? A sub-account is someone that doesn't have their own email address and requires a master account/email register them for the event. Recall, every event registration needs an account and every account needs an email. Thus, registering a sub-account (that doesn't have their own email) requires that a master account/email execute that process on their behalf. Ultimately, the registration will therefore have an email associated with it. 
There are also other instances in which you may want to use sub-account registration (besides registering a minor). For example:
An exhibitor team needs a quick an easy way to register a team of representatives for the event;
You would rather not require that each individual representative submit an email address and separate registration form for themself; 
Instead, sub-account registration allows the team leaders / booth managers to easily submit registrations on behalf of all representatives without creating an account for each rep
However, the caveat to activating sub-account registration is that the sub-accounts won't be accessible via email. That means all communications and confirmations/invoices will go to the master account and not the actual registrant. If your event requires that each registrant submit an email address, DO NOT activate Sub-Account registration.
NOTE: Guest Registration is another good tool for capturing team registrations. Take a look at our Guest Setup help article, Full Guest Registration tutorial video and Simple Guest Registration tutorial video. 
2) THIRD PARTY REGISTRATION METHOD
The "true" 3rd party registration method allows a person at the keyboard to register someone for an event using the email of the person being registered. This methodology is very commonly used by an assistant that needs to register their boss. 
The goal of Third Party Registration is to allow someone to generate not only a registration but also an Eventsquid account for someone else. Once complete, the person that was registered can then manage their own account and registration details, as well as receive event communications from the host.
NOTE: The person at the keyboard must be logged into their own account first in order to execute Third Party Registration on behalf of someone else.
REGISTERING USING THE ALTERNATIVE REG METHODS
Upon first entering registration, the user needs to pick the method by which they plan to register either themselves or someone else. Here's a look at the "methods page" when both types of alternative registration methods (Sub-Account and Third Party) are activated:
As you can see in the screenshot above, Sub-Account Registration allows a user to register someone else under their own (master) email address. Third Party Registration allows a user to register someone else using that person's email address.
When alternative methods of registration are activated, the person at the keyboard will see an ADD ANOTHER REGISTRANT button when they reach the checkout page. Clicking this will allow the user to loop back around to the beginning of the registration process so they can add another registrant. 
ACTIVATION & PAYMENT METHODS
The Activation & Payment Methods tool in the Event Builder contains the settings needed to activate your event registration for public usage and event payment.
The tool contains two registration mechanisms:
ATTENDEE: used for primary registration setup; includes Custom Prompts, Custom Profiles, etc.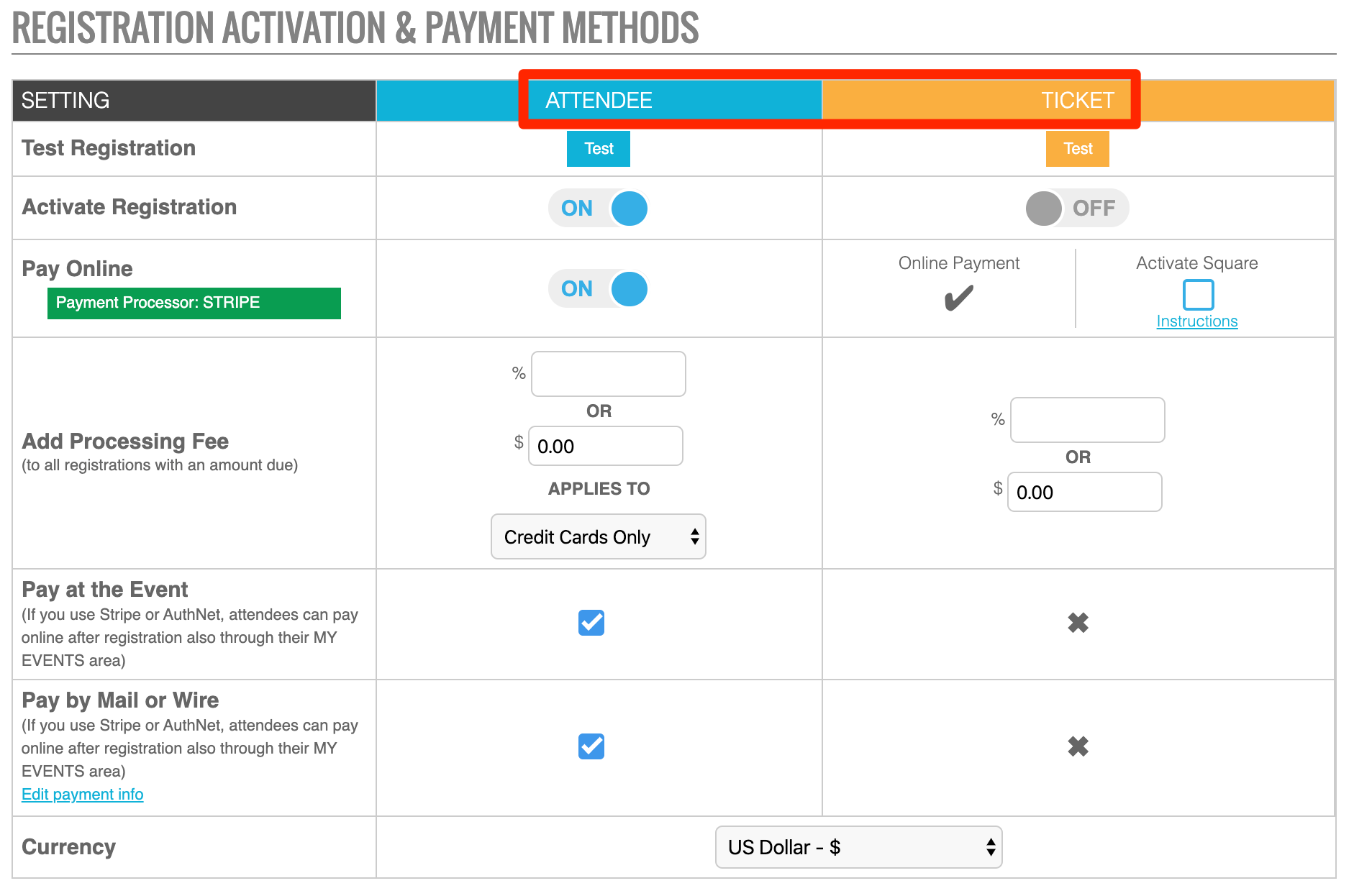 This tool is also needed in order to define the ways in which registrants can pay for your event (if applicable). Continue reading below to learn more about each function in the Activation & Payment Methods tool. 
ACTIVATE REGISTRATION
This switch will open the gateway to public registration. You might also flip this switch on before registration is technically open in an effort to test the event's registration flow before giving access to the public. 
Keep in mind that the Attendee and Ticketing mechanisms can be activated together or separately. They are distinct registration tools that can be used. 
Just above the Activate Registration switch, you will also see a TEST button. This button can be used by an admin to test your registration flow without having to flip the activation switch.
PAY ONLINE
Eventsquid allows organizations the ability to connect one of four accepted payment processors. Follow our GUIDELINES on connecting a payment processor to your Eventsquid Dashboard; we have also included basic instructions below. 
When connected, admins can choose to activate the option for attendees to pay for registration fees online. If Pay Online is the ONLY payment method that is activated for an event, registrants that obtain a balance due through the registration process will be required to pay their balance in full at checkout. 
When at least one alternative, "offline" payment method is activated, then registrants who obtain a balance through registration can opt to pay their balance now or later. 
When Pay Online is activated, registrants can use Eventsquid.com to pay their balance outside of the registration form as well. 
The following four gateways are accepted by the Eventsquid platform:
Stripe
PayPal Express
PayPal Payflow
Authorize.net
CONNECT A PAYMENT GATEWAY TO YOUR EVENTSQUID AFFILIATE DASHBOARD
Go to your Event Dashboard
Click the MANAGE ORGANIZATION tab at the top
Select PAYMENT PROCESSING
Now click the gateway you'd like to use out of the available options
Enter API credentials for connection
A great way to test a new payment gateway is through a real registration. Create a registration item on your event with a very small price (i.e. $1), then register and pay for it. Ensure that you activate the Pay Online option (described above) within the ACTIVATE & PUBLISH section of the Event Builder.
If you activate Pay Online in addition to another offline payment method, your registrants will see another option by default: PAY ONLINE LATER. Your registrants can select this, complete their registration and return at any later point to pay their balance via credit card online.
To pay an open balance online at a later date (after initial checkout), you can instruct the attendee to click the link in their confirmation email (to pay balance online), or to follow these steps:
Login to Eventsquid
Click name in the upper right corner
Select My Events from the dropdown
Find the event name and click Details
Click "Pay My Balance"
The attendee will be given a presentation of their invoice. At the bottom right corner, they will see a button labeled PAY NOW BY CREDIT CARD.  
PROCESSING FEE
You can add a processing fee to your Eventsquid registration transactions. The processing fee can either be a flat fee or a percentage of the total purchase price. 
Note that an admin is also able to apply a blanket fee on all transactions, or apply the fee only to only those registrations that were purchased by credit card. 
The processing fee will show up on the registrant's invoice as a separate line item.
ALTERNATIVE OFFLINE PAYMENT METHODS
You can also elect to allow registrants to elect a method of payment that would occur offline. For example, you might be running an event which accepts registrations that are paid for by the registrant's parent organization - as such, they might need to submit an invoice to their team for approval. Or, you might allow registrants to pay as the front desk, with cash or check. 
You'll see two alternative, offline payment methods that you can enable for your event registration:
Pay at the Event
Pay by Mail or Wire

Notice the EDIT PAYMENT INFO link inside the "Pay by Mail or Wire" option. Click this to reveal a set of fields which allow you to designate check and PO payment instructions for registrants that choose this method. The instructions inputted here will display atop the final invoice, on the confirmation page and within the confirmation email that is sent to registrants. 
This information is customizable per event. However, for those of you that would like to keep this information the same for all events, you can setup a default from your Event Dashboard. Click into the MANAGE ORGANIZATION tab, then select Registration Defaults on the left. You can set default check payment instructions.  
PUBLISHING OPTIONS
Publishing an event will post the event listing on the portable calendar widget. This means:
If you have our portable calendar widget embedded within your website, the event will display
Your event will be published to the Eventsquid.com public event calendar
Note that if you have multiple event dashboards, then you are able to publish events to multiple organizations (each organization has their own portable calendar widget).