WHAT IS A GUEST?
While you may consider anyone attending your event a "guest", within the Eventsquid system there is a distinction between the main registrant (attendee) and a person the main registrant may be entitled to bring to your event.  
The notion of a guest is also a mechanism to connect people to the main registrant.  A guest can be a teammate, colleague, gold team member, etc.
GUEST TYPES
The Eventsquid system offers two ways to handle guests of registrants.
1) Simple "Plus X" Method
You would use this method when:
you only need limited information from guests (i.e. just their name and email)
guests will participate in the same activities as their primary registrant (tag-along)
Examples:
You are inviting your main registrant to sign up for going to see a baseball game and they are allowed to choose how many are in their party.
You are hosting a golf tournament and selling a golf foursome where you simply need the name of each foursome member.
You are hosting a seminar and the registrant is purchasing seats for the seminar.
Once you activate Simple Plus X guest, the registrant enters basic information for each guest immediately after check-out.
2) Full Registration Method
You would use this method when:
you need full detail on guests of registrants (i.e. a full registration form of information)
the guests of registrants can chose different registration items than the main registrant.
Examples:
You are holding a conference and conference attendees can bring guests. A typical day includes a general session in the morning and elective activities in the afternoon.  The guest of the attendee can chose different (or same) activities as the attendee for the afternoon.
You are holding a simple event but you want to collect a full set of information (e.g., name, address, email, phone, membership status, etc) on all people attending the event.
When a registrant completes registration, they can either invite their guest (with an auto email) or register the guest themselves! In either case, they must complete the full registration form you created. You need to decide whether the primary registrant's payment covers the guest's charges (for they primary activity they are attending). If so, you will want the guest form to have a simple zero-dollar "guest registration" item to select when registering instead of the priced items offered to primary registrants.


SETTING UP GUEST REGISTRATION
Now that you understand the distinctions between the 2 main guest types in our system, let's walk through setting up guests for an event in the system. 
INITIAL SETUP
Head over to the REGISTRANT TYPES section of the Event Builder (on the lefthand main menu), then click Guest Setup on the righthand menu. You'll be taken to the guest setup hub, where you can activate guest registration by switching on the big button at the top of the page

You'll then have the option to select one of the guest signup methodologies we discussed earlier: Simple X Method or Full Record Method. Click the radiobox that applies most to your event - for this example, we're going to walk through the Full Record Method. 
TIP: you can also access the guest setup page through an item's control box, in the ITEM Builder. Click open the item and you'll see a small guest privileges box. Click the little gear icon and you'll be led right to the main guest setup tool. 
STEP 1: TRIGGERS
You've turned on guest registration for your event at this point and you've selected the method by which you'll allow guest signups. Now, it's time to setup your registration experience for guests. 
The first step is to create "trigger items". A trigger is an item that, when selected by the primary registrant during registration, will allow them to invite one or more guests. When a trigger is selected, the primary registrant will be prompted to invite or signup guests AFTER they have completed their own registration form.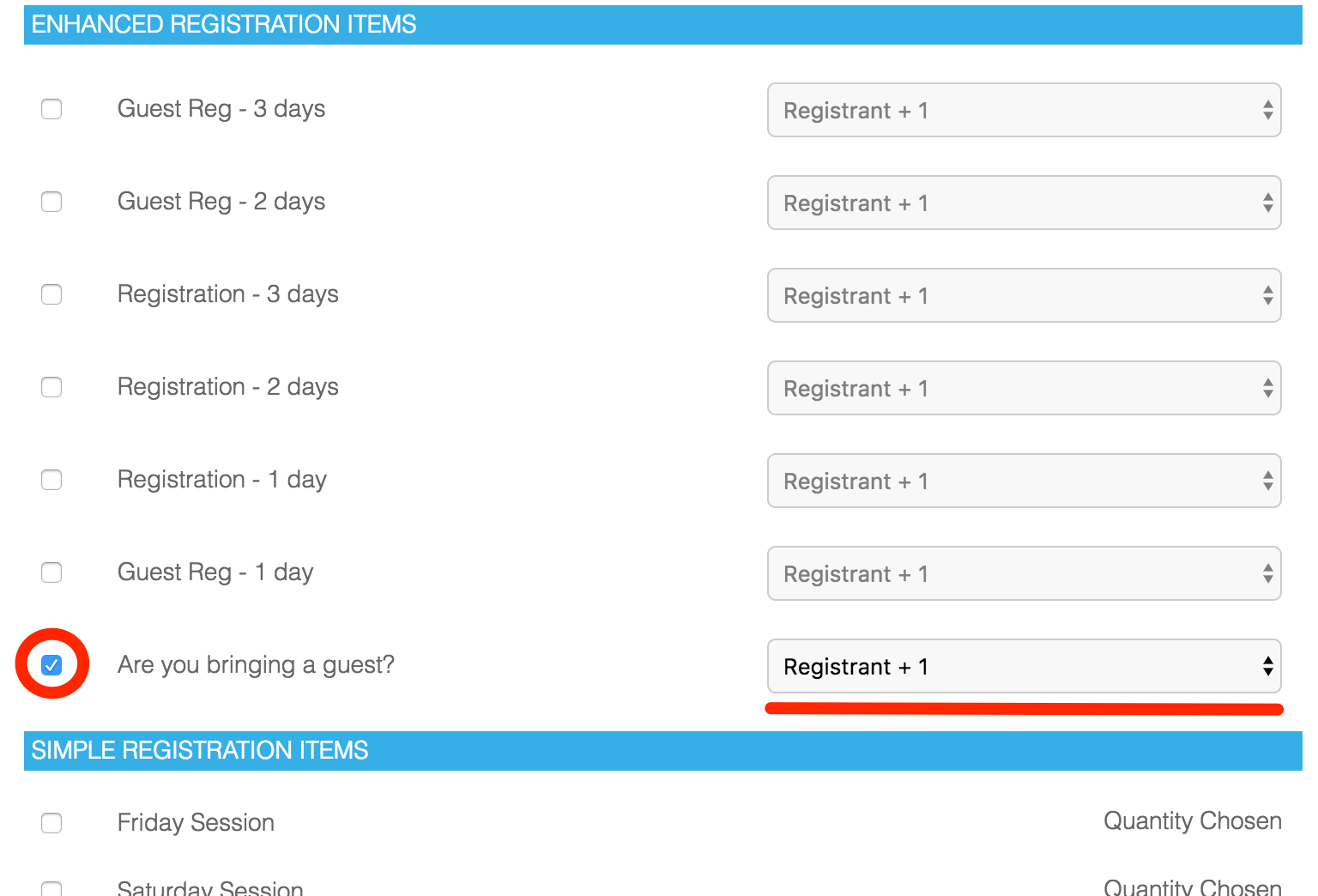 In the example above, you can see I have created an item called "Are you bringing a guest?". I elected to use this as my trigger, allowing the primary registrant to bring one guest. This means that after the primary registrant finishes their registration form (having selected this trigger item), they will be prompted to either signup or invite a guest. 
TIP: once you set an item as a trigger, it will ONLY appear on the PRIMARY registrants form. Think about it, if an item's purpose is to trigger guest invitations, then there would be no reason for it to be on the GUEST'S registration form - it's purpose has been served.
STEP 2: FORM SETUP
You have your trigger setup for guest invitations. Now, you will select what items your guests will have access to on their registration form (whether they register themselves or you register for them). 
Some events might not want the full breadth of activities available for guests to sign up for. For example, your event might have a number of activities, but only the meals and banquet hall events will permit guests. In this case, you wouldn't want your guest registration form to have all options - only the meal options you select. 
Here's what you'll see when setting up the guest form:
For each item on your registration form (EXCEPT for the trigger item you just create - remember, making an item a trigger automatically excludes it from being on the registration form - think about it......), you have the ability to:
Make it show on both the PRIMARY and GUEST forms
Make it show on ONLY the GUEST form
Price it FREE for GUESTS
Keep STANDARD price for GUESTS (same as PRIMARY registrants)
Now you can tailor your guest registration experience to exactly what you want - offering things for free where appropriate and only allowing guests access to the activities/items you want them to have access to.
If you were using the Simple X Method for guest registration, rather than seeing an item setup section (above), you would just see a section that allows you to customize what information you'll gather from your guests. Take a look below:
This makes sense - if you use the Simple X Method, guest registrants aren't signing up for any activities/items individually. Guests are viewed as a tag-along to the primary registrant and are assumed to do whatever their primary registrant does at the event. 
All you need to do as the event host is make sure you get the proper information from guests, which you can do here during guest setup. 
FINAL OPTIONS
At the bottom of the Guest Setup tool, you'll find a couple dropdown menus with additional options (ONLY when choosing FULL Guest Method). Take a look below:
The first option lets you decide whether you want PRIMARY registrants to have the ability to either Invite GUESTS via email and register guests themselves, OR just give primary registrants the ability to register their guests. 
The other option lets you hide or display hotel prompts - depending on whether or not guests will have the same accommodations as the primary registrant, you can choose one of these options. 
GUEST REGISTRATION
Let's walk through an example guest registration.
FOR THE SIMPLE PLUS X METHOD
After you complete your registration form, click ADD ANOTHER REGISTRANT to get the opportunity to register a guest. Simply add the registrant - they will be a sub-account of you (i.e. attached to your main account). 
FOR THE FULL GUEST METHOD
After you complete your registration form, you'll have the opportunity to add OR invite guests. If you add them, you'll have to go through their entire registration form - if you invite them via email, then your guest will complete the registration form.