Welcome to the center of the world....the squid world. The core of your event experience lies within your registration form. 
We think of registration forms as consisting of 2 key parts:
FORM QUESTIONS - qualitative registrant questions (i.e. phone number, favorite cephalopod)
REGISTRATION ITEMS - the tangible selections a registrant can make (i.e. fees, sessions, etc.)
The tools in the Basic Setup sub-section will help you create a full-fledged registration experience. Let's learn how:
REGISTRATION ITEMS
An item is the basic building block of your registration experience. Items can come in various shapes and sizes - the key is understanding how to use them. Here are a few examples how what our event hosts will use the item tool for:
Creating session options for registrants to select

Building registration fees (i.e. full registration item, 1 day registration item, member registration item, etc.)
Adding ancillary goods (i.e. meal options, t-shirts, etc.)
Let's look at the different tools at your disposal in the item builder and how to go about creating new items. 
Create a New Item
First, click the CREATE NEW ITEM button....it's a giant, green, friendly-looking button. You won't miss it. After clicking, a modal pops up with 3 item type options:
Here's a breakdown of each:
ATTENDEE TYPE: use this item when you'd like to allow registrants to select a quantity of greater than 1. Typically, even hosts will use this item in cases where guest privileges are allowed (i.e. by 3 and invite 2 extra guests). 
ENHANCED TYPE: the most frequently used item type and perhaps the most powerful. It allows any registrant a selection of only 1 of these - it helps event hosts keep track of who purchased what (because there is a 1-to-1 relationship between the registrant and the selection). 
GOODS & SERVICES TYPE: this item type allows you to attach entree items and apparel sizes to the selector for registrants, making this a great choice for ancillary good options
 Configuring Your Item
Click on an item to open its settings panel. You will see a mini tabbed menu on the left of the settings panel, with controls in the center of the panel:
 Here are some key features to take note of:
LIMIT FOR THE EVENT: set a limit on this item's availability for the overall event
BASE ITEM PRICE + TIERS: set the base price, with option just below to "Activate Price Tiers" that are triggered on specified dates/times
FREE EXTRAS: bundle items together using the free include tool (i.e. include items X & Y inside of item Z's settings panel)
EXCLUDE ITEMS: the exact opposite of the free extras tool - use the exclude tool to disallow the selection of subsequent items if this item is selected
WAITLIST: Click "Make Waitlist" to create a waitlist for your registration item or items.  This works in conjunction with the "Limit for the Event"; once the limit for the item is reached, the waitlist item will become active.  Note: moving registrants from the waitlist is a manual process ... we recommend you contact the registrant first to confirm they still want a slot then you can adjust in registrant details from the EVENT DASHBOARD
REGISTRATION FORM 
Let's dive into the rest of your registration form. Recall that your registration form needs 2 key elements: selections and questions. The questions piece will allow you, the host, to gather valuable data for reporting and planning purposes.
In the registration form tool, you can customize the following:
PROMPTS: the questions you ask your registrants
FORM TEXT: any instructional language you'd like to include on the form
CONFIRMATION PAGE: the....confirmation.....page
CONFIRMATION EMAIL: the ......confirmation....email
Let's give each piece a look...
PROMPTS
Our system already includes a pretty sizable list of standard prompts to pick from. After clicking into the Registration Form tool on the left menu, you will be presented with that standard prompt list. See below for a preview:
Below the prompt pick list, you will see a few other options you may turn off for your event. These include:
AVATAR & DOCUMENT UPLOADS: allow registrants to upload documents and headshots right inside the registration form
COMMENT & REFERRAL SECTION: give registrants the opportunity to mention a referral source as well as make comments about the event
FORM TEXT
The next section in the default form editor, after selecting prompts, is the "Form Text" section. Simply put, you can add additional language / details to your registration form to improve the experience for the user: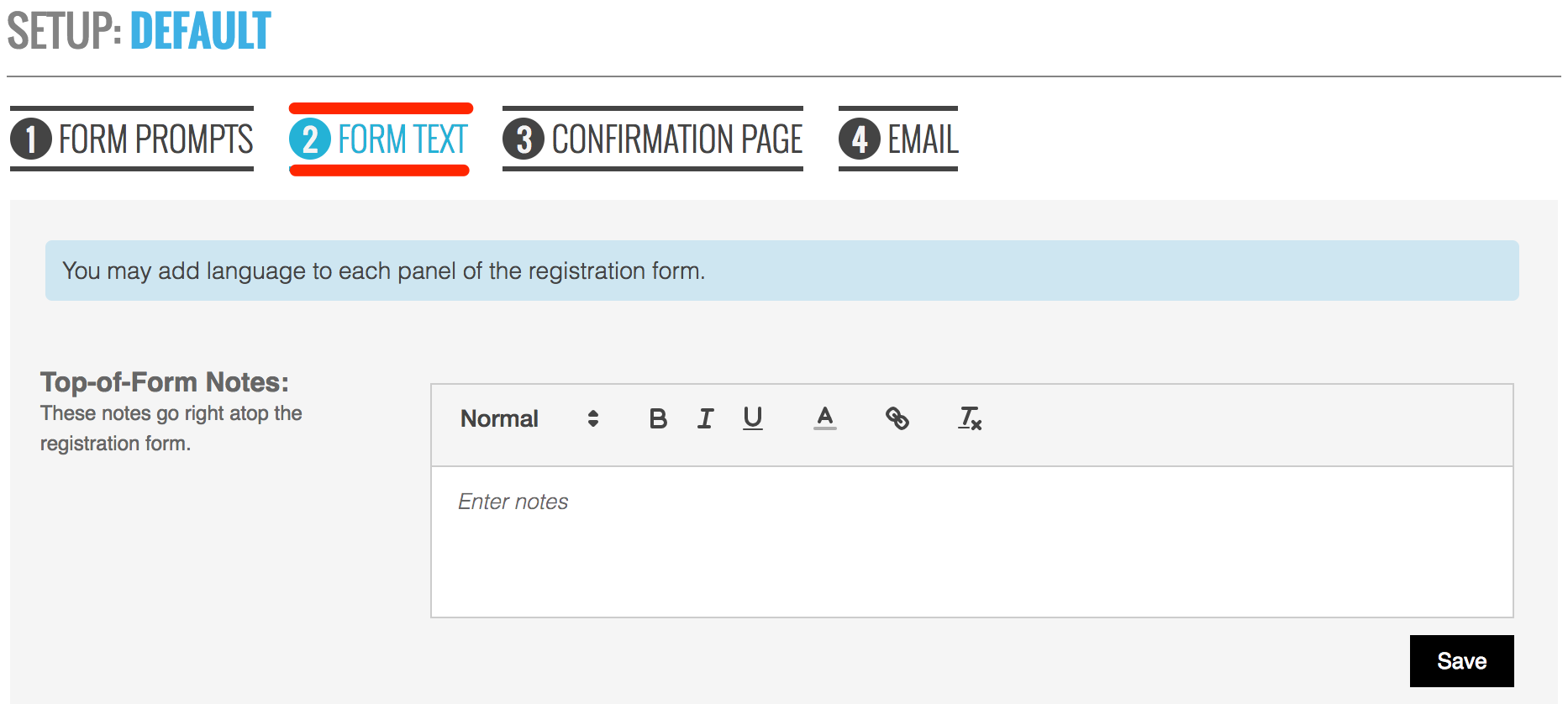 Sections include sections such as "Top-of-Form Notes" and "Checkout Panel Notes". The final section is an important one (usually)....the Disclaimer! You can use our system to write out, display and ENFORCE your very own Terms & Conditions. Check it out:
Notice how you have a box to customize the disclaimer for the specific event (first text editing box), in addition to a "Current default Disclaimer Language" box. In your organization settings (accessed via the Manage Organization tab on your event dashboard), you can create default T&C and include in each event. Or, you can customize per event. The choice is yours. May the force be with you, young squid.
CONFIRMATION PAGE & EMAIL
Although very self-explanatory, these sections are quite useful and include a number of customization options. The beauty of the confirmation page and email elements in our system is that they are transactional in nature; thus, our system auto-generates a good bit of detail for you so you don't have to worry about it. 
The Confirmation Page includes options to customize the onscreen paragraph and top label on the invoice given to registrants:
Additionally, you can customize a few more things on the confirmation page as well. A couple notable options:
Activity Vouchers: our system automatically will generate an "activity voucher" for any registration item that is purchased. The pass includes a few pieces of information about the registrant, as well as a QR code. You can setup the confirmation page to allow or disallow the registrant to print these activity vouchers. Furthermore, if you do decide you'd like registrants to print their own activity vouchers, you can decide which specific vouchers (for specific items) should display
Parking Passes: our system automatically generates parking passes for your event. The confirmation page editor will let you choose to display or not display those passes
The Confirmation Email is mostly auto-generated. This saves you time and headache. Take a look at the screenshot below - you'll see that we include a bulleted list inside the form editor that tells you exactly what elements are automatically included in the confirmation email:
Below the bulleted list, you have some customization options:
QR Check-In Code: you can choose whether or not to include a link to the check-in code
Save to Calendar: if you'd like to give registrants the ability to save the full event to their respect calendar application, you can provide a link to do so
Body of Email: you can customize the messaging within the body of your confirmation email