The Custom Prompt Library allows you to create questions to collect the data you need from your registrants. 
CUSTOM PROMPTS
Once you create a custom prompt, it will live forever (until deleted), inside your custom prompt library. You see, your custom prompt library is the same across all events - it is stored at the affiliate/organization level. Think about your library as a lasting store of all the custom prompts that you create - eliminates a lot of work on your end!
CREATE A NEW PROMPT
Click the green Create New Prompt button at the top right to create a new prompt - below, you'll see what a brand new prompt looks like.
(NOTE: The Custom Prompt tool is very similar to the Registration Item tool, in that new prompts are created as draggable bricks, with an expandable settings panel. Categorize the prompts into groups and customize how you see fit.)
See below and read on for the 4 first, key steps in creating a new prompt: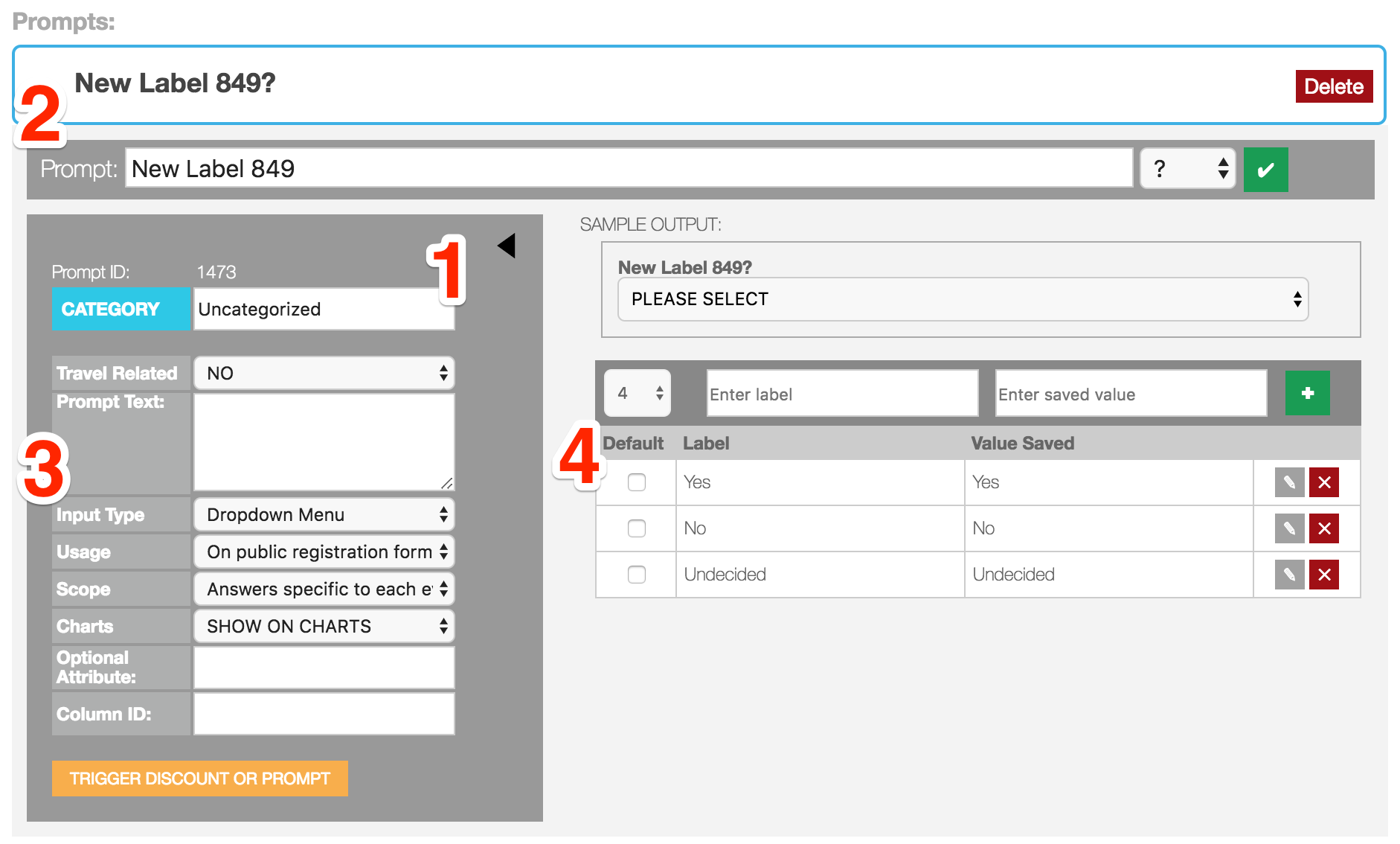 Categorize: first, pick an existing category or create a new one for your new prompt. After selecting/creating, your prompt will automatically reload in that category.
Prompt Name: next, give your prompt a title. The prompt may or may not be a question, (e.g. many times we will see custom prompts being used for the purpose of a custom terms acknowledgement within the form), so you can use our selector to change the ending punctuation on the prompt. Click the checkmark to confirm changes.
Input Type: figure out what input type you'd like to use for your question. In the example above, we have a Dropdown Menu type being utilized. Our system also offers Radio Buttons, Small/Large Text Boxes and Checkbox input types.  
Labels: if your prompt requires a selection of one of your preset answers, you will need to create your input labels. Click the small grey pencil icon on the right of an existing input label to edit it; click the X icon next to that to delete the label option. To add, use the text box above, then click the green + icon to add the label to the set.
VALIDATION
Our system will let you require specific data inputs from registrants. This keeps your data gathered from that prompt uniform and easier to interpret, in certain case. For example, let's say you needed to capture a specific date from registrants (i.e. Arrival Date). 
First, you'll need to change the input type of your custom prompt to a Small Text Box. Then, click into the Validate dropdown menu - you will see the 4 data validation options below:
CONDITIONAL PROMPT LOGIC 
You can use the Custom Prompt Library to create conditional relationships between prompts, conditional discounts and conditional messages. The only requirement is that your prompt NOT be a text box input type - in that case, you wouldn't have any preset selections to base the conditional logic off of. You must use the Radio Button, Checkbox, or Dropdown input type to create conditional logic. 
Inside the prompt's settings, you will see an orange button at the bottom left called Trigger Discount or Prompt. Click it. You will be taken to the following screen:
Triggers These Prompts: tell your registration form to connect a follow-up prompt (or multiple) to a specific answer selected on the initial prompt
Triggers This Discount: tell your registration form to give the registrant a specific discount (must be created separately in the Discount tool) if he/she selects a specific answer on the initial prompt
Triggers This Message: tell your registration form to pop a custom message box if the registrant selects a specific answer on the initial prompt
ACTIVATING A CUSTOM PROMPT WITHIN YOUR FORM
Once created, your custom prompt will be available if your registration form editor just like any other standard prompt:
Default: if using the default registration form, click into the Registration Form tool and locate your prompt in the form prompt pick list
Custom: if using custom profiles (with Custom Settings turned on within the profile), then click into the Custom Profiles tool >> click the pencil icon to edit your custom profile >> click into the 2. FORM PROMPTS section of the profile editor >> then locate and turn on your custom prompt within the prompt pick list