What are custom profiles? Why use them?
Let's say you have an event for which multiple types of people will come to register, but you can't present all registrant types with the same form. Some types may have different rates/fees, some might have special VIP options, others may need to enter data for specific questions (i.e. membership information) that you need from them.
In this type of scenario, we would say that you need multiple registration forms, or "pathways" through registration. In other words, we need to make sure we place each registrant in the right bucket, based on who they are.
CUSTOM PROFILES 
With Custom Profiles, you can pick and choose which questions and items to present to the registrants that select that profile. With the Custom Profiles tool, you essentially have the power to create multiple, custom registration forms. 
With profiles active, registrants will be prompted to self identify themselves as one of your profiles before even entering registration. As soon as they select a profile, the system will send the registrant into the right form....the form that you created for them! Let's take an in-depth look.
CUSTOM PROFILES TOOL
Click the blue Profile Diagram button to see an interactive flowchart/breakdown of your profile setup. The diagram will show you what registration items and prompts you are currently including in the profile - it can be a helpful visual tool in the process.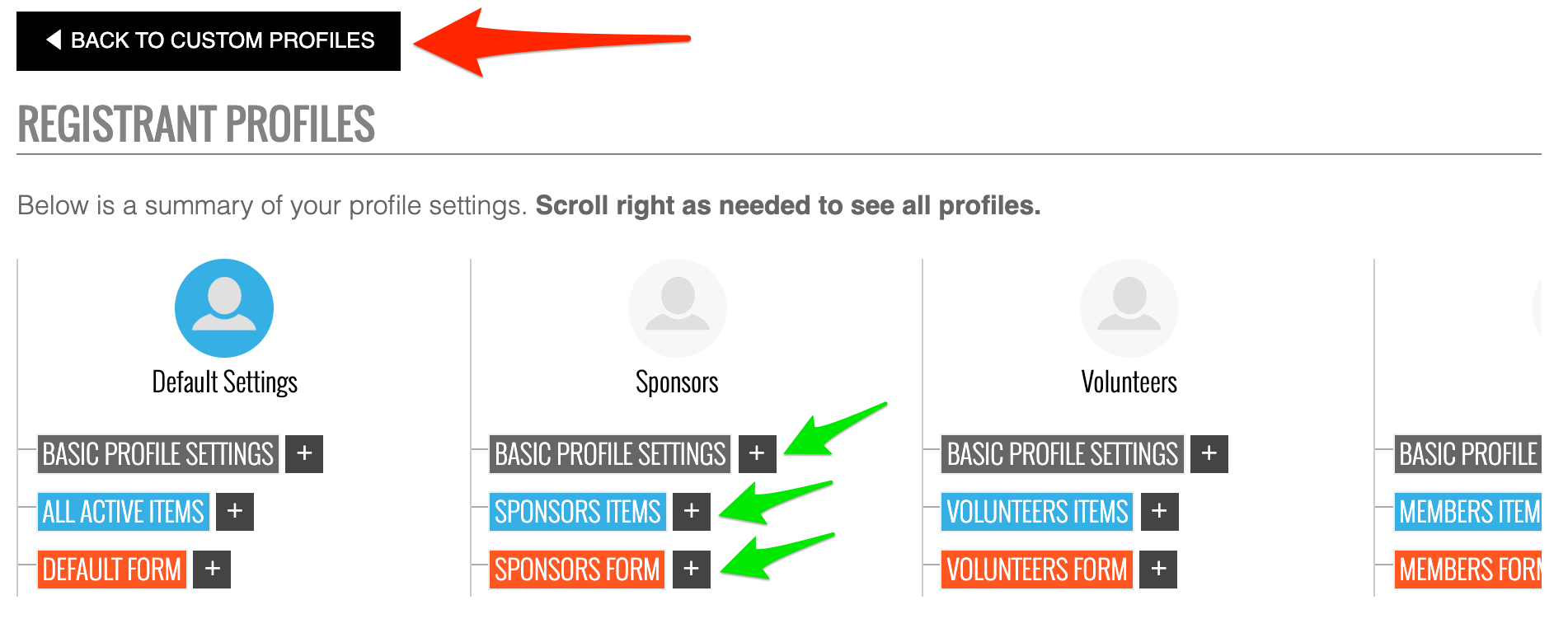 Hit BACK TO CUSTOM PROFILES and you will return to the profile grid.
The small pencil icon/button on the right side of your profile will push you into the form editor for that profile.
Other key functions on this page include:
Profile Expiry: the expiration of the profile will automatically set according to the end date of your event.  Quite simply, this date is when the profile will cease to be available for registration. You can have different profiles running with different expiry dates - this is sometimes a useful strategy if you have differing registration timelines.
Form Default Status: If you have not yet read our article on Basic Registration Setup, please take some time to do so, then come back! If you're already up to speed....recall there is a default registration form (the tool is above the Custom Profiles tool and is called Registration Form). If your custom profiles say "Default" in this column (like the above profiles do), this means your profiles will use the form settings that are currently setup in the default Registration Form tool. If you'd like to customize the profile's registration form (to deviate from the default registration form's settings), then click the pencil icon to edit the profile. At the top right, you'll see a large "Default Settings Switch" - if you flip that switch, you'll make the profile fully custom (which allows you to edit the rest of the form beyond PROFILE ITEMS, differently than the default form). Keep reading to this visually.
Active Status: This is the ON button for the profile. The active status checkbox is a great tool you can use when creating different profiles with different launch dates (according to your event registration logistics). You can create a full profile that isn't meant to launch for months.....have all the work finished and ready to go....then click the active status checkbox when you're ready to push the profile live for registrants!
EDITING A PROFILE
This is because the default settings are on! So this profile ("Attendee") will just use the default registration form settings. When using custom profiles, the Profile Items section will always be available - that's the main point of using a profile right. Expose different registration items to different types of people (profiles).
Using the default settings is by no means a bad thing! If you have numerous registrant profiles that require the same form questions and confirmation experience, you SHOULD leverage the default form. That way you only need to create that form once (in the default Registration Form tool), then let those custom profiles all use it!
Now let's flip the switch:
Let's take a look at the main setting in the custom profile editor: Profile Items. Recall that the remaining 4 (if you choose to make your profile custom) are the exact same as they are in the default Registration Form tool. Please review this  article to become familiar if you haven't yet.
Application Status: Use this tool to require any registrant under this profile require your manual approval. Any registrant under this profile will appear on your dashboard (Registered Attendees list) with a yellow "Pending" button. Click the button and you will have the opportunity to review their registration details and subsequently either approve or deny the registrant. 


Note that you have 2 options here: Payment AFTER approval, or standard payment according to your event setup
Payment AFTER approval would allow the registrant to bypass your payment screen. They may remove some headache for you - in the event that you decline a registrant, you wouldn't have to refund them since they hadn't paid!

Item Pick List: this is the main feature of the Custom profile tool. The item pick list shows you every single registration item you created in the Registration Items tool previously. Now, you can pick which items to show to each of your custom profiles, using the pick list.
ADVANCED SETTINGS