The Guest Setup tool is one of the most difficult to master, within our platform. It takes patience and a willingness to learn the ins and outs.
But PLEASE do not fear, for we have your back. If you can give this article a couple reads, follow along and replicate what we discuss here in an actual event, you'll be well on your way (if not already there).  
ONWARD!!
WHAT EXACTLY DOES FULL GUEST DO?
Before diving in headfirst, it's important to understand what exactly this tool accomplishes. When you have the Full Guest Method setup for your event, these are a few of the highlights of what can be done (by the registering parties):
Registrants can earn (or be awarded) additional registrations

The additional registrations may be completed by...

the PRIMARY registrant (aka the initial registrant that earned the guests)
the INVITED registrant (aka the guest)

You are able to dictate the pricing for these additional registrants
You may re-label these additional registrants (i.e. "teammates", "colleagues", etc.)
You can direct these additional registrants to one or many custom profiles
With Full Guest, these additional registrants are attached to the initial registrant. You can see this on your Registered Attendee list (on the dashboard), as well as within your Custom Reports. 
USE CASES
Here are a few common scenarios we often see, which are enabled by the Full Guest setup:
Exhibitors register full teams of representatives to man the booth - each representative is also allowed to register for activities at the conference just like an attendee
Attendees can bring a spouse with them - the spouse is also able to register for multiple options, independent of the person that invited them
Sponsors are awarded differing numbers of additional registrants, depending on which sponsorship package they purchase - once again, the attendees can pick different options within the registration form
Today, we'll walk through a fairly basic scenario to help you grasp the various concepts of this tool: 
Registrants can choose the standard or VIP option for themselves. The VIP option gives the registrant a few special activity choices on the form. Finally, the registrant can bring a +1, as either a VIP or standard attendee.
SETUP THE FRAMEWORK
Ok folks, the first step in turning on the Full Guest Method is a setup of all the pieces. Once we have the framework in place (i.e Custom Profiles, Registration Items, etc.), we can connect everything within the Guest Setup tool
MAIN ATTENDEE REGISTRATION ELEMENTS
Attendees enter the form, fill out a few prompts, then reach the item selection section. Here are the items ("elements") that we need:
2 registration items that are mutually exclusive (can't select both)
3 activity items that are mutually exclusive (can't select more than 1)

Cool Tour
Happy Tour
Intense Tour

2 special activity items that are mutually exclusive (can't select both) AND excluded IF the registrant selects the Standard Pass

Secret Tour
Super Secret Tour

2 guest invitation items that will award the registrant an extra guest, which are mutually exclusive (can't select both)
To create these options, enter the REGISTRATION tab within the Event Builder, then click the Registration Items tool on the left of the screen. 
CHALLENGE
Create all 7 registration options above, with the following requirements:
You cannot pick both pass types - you're either Standard or VIP
You cannot pick more than 1 Tour option
You cannot pick more than 1 Secret Tour option
You may not pick either of the Secret Tour options if you are Standard attendee
HINT: use the EXCLUDE ITEMS tool within each registration item to disallow other items based on any given item.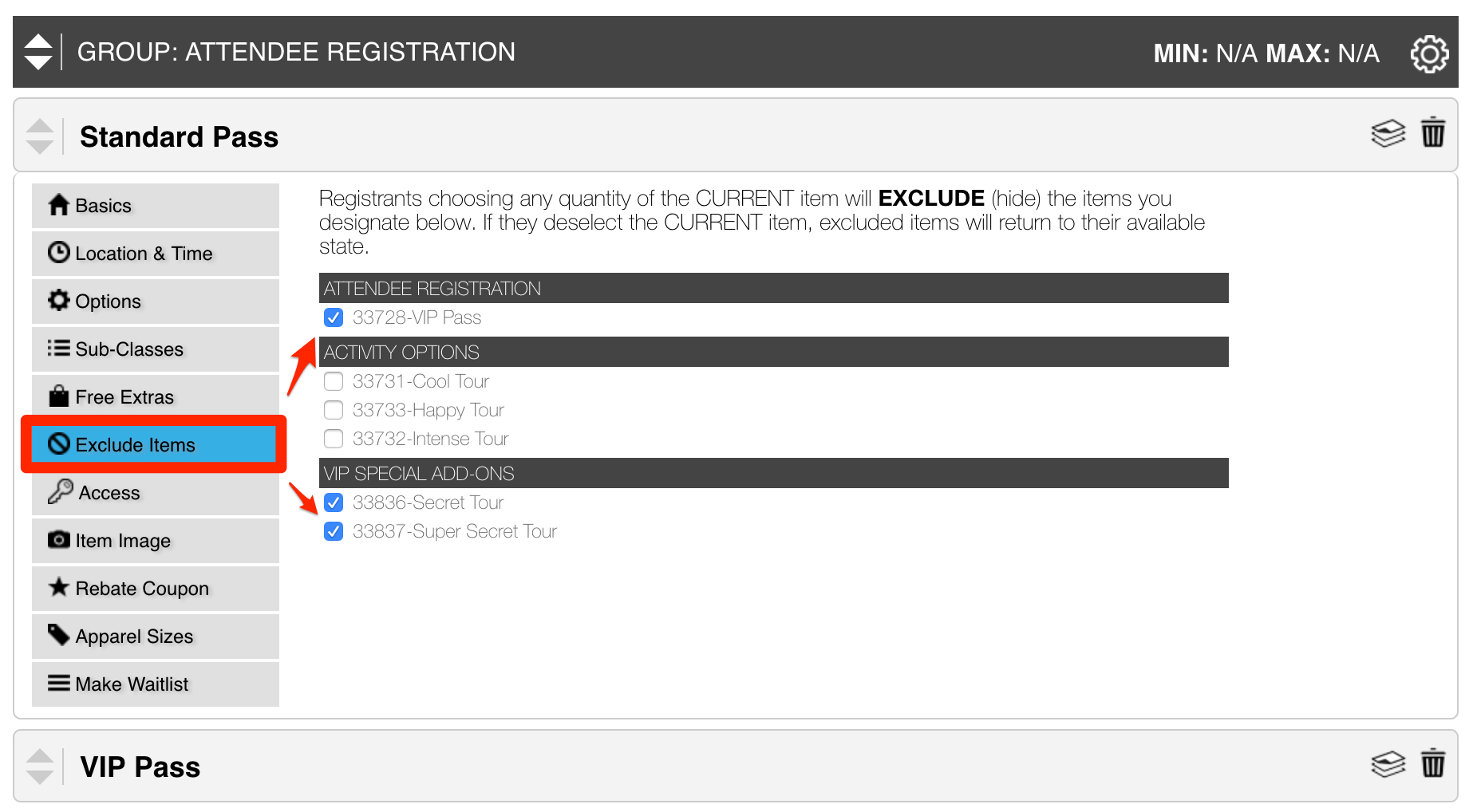 We are flying! Good on you and good for you, sticking with our crazy squid logic. We knew you'd get the hang of it.
We are almost there. Now, we need a Custom Profile to house all of the attendee registration items. 
QUICK TIP: we will ultimately need to create 2 Custom Profiles for "Standard" and "VIP" guests. Thus, we need a profile for main attendee registrants.
Hop into the Custom Profiles tool within the REGISTRATION tab of the Event Builder. Click to create a new profile and call it "Attendee Registration". Once created, click the "pencil" icon to the right so you can edit the profile. 
You will enter the PROFILE ITEMS editor - scroll down and you will see a pick list box with all of your registration items. Turn them all on for the profile!
Now click the BACK TO PROFILE LIST button at the top right of the screen, then click the ACTIVATE checkbox to turn on the profile. 
Sheesh! You've outdone yourself.  
GUEST REGISTRATION ELEMENTS
While we're still inside of the Custom Profiles tool, let's create 2 more profiles. 
Now, we can turn on the right items for these profiles.
For the Standard Guest profile, activate:
The Standard Pass item
The Standard Tour items (3 of them)
For the VIP Guest profile, activate:
The VIP Pass item
The Standard Tour items (3 of them)
The Special Tour items (2 of them)
Once complete, click the ACTIVATE checkbox for both profiles, in the Custom Profile tool (just as we did above for the main attendee profile). 
CONFIGURING GUEST SETUP
OK - you've made it this far. I know for a fact that you have the chops to handle the next step in the process...FULL. GUEST. REGISTRATION.
First, let's think about a guest registration - what's needed?
1) A way to tell the system how many "guests" you're bringing
2) A way for the "guests" themselves to register
We already have both pieces to this structure. Recall that we have already created:
The 2 guest invitation items (you're bringing either a Standard guest or a VIP guest)
Items and profiles that the guests will use to be registered (or use themselves to register)
NOTE: A "guest" in our system is an extra registrant that is attached to what we call a "primary registration", or the first registrant in a group to execute. Our system allows you to re-classify or rename these guest registrants and that is exactly what we will do! We can call this guests "colleagues" for example. 
FULL GUEST REGISTRATION METHOD
Alrighty, let's dive into this beast. Click the GUEST SETUP tool on the belt, within the REGISTRATION tab. You will see a large activation switch.... flip that beast on and let's get to work!
The GUEST SETUP process comes in a few steps, depending on which METHOD you choose (which is the very first step). For our example, we're going with the FULL RECORD METHOD, so select it.
After selecting, you will notice that there are 3 distinct steps:
INVITED PARTY LABEL: this is where we can rename "guests" to another terminology
TRIGGER RIGHT TO INVITE ASSOCIATES: this is the step in the process where you associate the guest awards to the appropriate "triggering" or invitation items (i.e. select this item and you get X guests)
WHICH ITEMS CAN YOUR ASSOCIATES CHOOSE: the final step involves setting up the items that should be selectable/viewable by your "guest" registrants
1. RE-LABEL
We can change the invited party label to another term that is more suitable to exhibitors. I chose "Associate", but feel free to go your own route!
2. SET TRIGGERS
The triggering concept is an interesting one. However, it all boils down to this simplistic idea: items tell the system how many guests to come. 
Remember the invitation items we created?  We'll use these items as the guest triggers, so that if the registrant selects either of them, they will be awarded a guest. Makes sense right?!
In the Guest Setup tool, scroll through the STEP 2 section until you see both invitation items:
Check the box next to each invitation item to set it as a trigger
Keep the privilege to "Registrant +1" so that only 1 guest is triggered
Then, assign each trigger the right profile!
QUICK TIP: You should now see how the Custom Profiles we created for guests ("Standard Guest" and "VIP Guest") come into play. What we can do is direct the guest registrants to the right profile.
Said another way, the registrants that buy a "Standard Guest Pass" will get a guest that can register under the "Standard Guest" profile. The registrants that buy a "VIP Guest Pass" will get a guest that can register under the "VIP Guest" profile.
So we can determine which profile guest registrants must register under. With this in mind, you have a few unique abilities:
You can leave them all un-checked so the guest registrant has the option of any available profile
You can turn on a couple profiles to narrow down the offered profiles
You can select only 1 profile, which would make it mandatory that any guest registrant that is triggered by that particular item, be routed directly into that custom profile
In our example above, we will make sure that we direct Standard Guests to the right profile, just like VIP Guests. There is no option - the pass type that the initial registrant purchases will dictate the profile of their guest.
NOTE: if you do not see your 3 custom profiles stacked up on the right side of each triggering item, then you need to make sure you have allocated registration items to each of your custom profiles properly as well as ACTIVATED all of your profiles.
Go back and ensure your Custom Profile grid looks like this:
3. SETUP GUEST FORM 
Take a scroll on down to the final step. This one can sometimes trip people up so let's do what squids do best... and think for a moment what this step entails. 
What we are essentially doing with the guest setup process is creating a way for a primary registrant to invite/trigger extra guest registration slots.
In this final step of guest setup, we need to determine which items that are already present on the registration form should also be viewable by "guest" registrants.
For each item, there is a dropdown.
NOTE: you will not see your invitation items (the items you designated as triggers in the previous step) in this list. That is because triggering items are automatically disallowed by being show to "guest" registrants. Think about it.....an exhibitor triggers a guest....who triggers a guest....who triggers 3 guests...and they all trigger 2 guests....it would be a nightmare! So we just cut them out of the equation.
Each dropdown contains the same 3 options:
Show ONLY on Primary
Show BOTH on Primary and Guest
Show ONLY on Guest
These 3 options cover any scenario you might encounter.
Some items should only be viewable by the initial/main registrant (in our example, only the triggering items would follow that criteria).
Other items should be viewable to both primary registrants and the guests they are bringing (in our example, we are going to flip all items to this option).
Finally, there may some items within your event that should only be viewable to guests (we don't have this in our scenario, but a few common examples include "guest activities", free registration options for guests, etc.).
The dropdown on the far right should make perfect sense now.... this dropdown allows us to either offer any item to guest registrants for free OR keep the original pricing valid. 
This added flexibility with pricing allows you to utilize the same exact items for guest registration (that were also used for main attendee registration), yet offer them for free on guest registration. 
In our scenario, we could go both ways. I will walk you through the route that asks that you keep at least the Standard and VIP Passes FREE for guests:
In this example, we would attach a base price to the TRIGGERING items (that the main registrant uses to invite the guests)
Let's say I pick the VIP Guest option for $150 - when I register my guest, I don't want to have to pay for them again once I get to the VIP Guest form! Thus, I keep the VIP Pass free
However, if you don't attach a price to the triggering item, you would flip the dropdown on the far right to ask for "Standard Pricing" for guests. 
GIVE IT A RIP!
CONGRATULATIONS!! You have just setup one of the most complex mechanisms in our entire system. Great work and keep it up!
At this point, go ahead and give this beast a test. Get a feel for what it's like to register guests and invite guests to register. 
NOTE: you can disallow primary registrants from inviting guests to register themselves at the very bottom of the Guest Setup tool in the Builder. This would require main registrants to register on behalf of their guest as well.