Eventsquid lets you create rooms within your main event locations. This helps you specify where different agenda items are taking place.
First, make sure you know how to create a new venue/location:
Enter the Event Builder
Select the EVENT BASICS tab at the top
Click the Location Details tool on the left
Then select CREATE A NEW VENUE
In the AGENDA section of the Event Builder, you can create multiple rooms for each venue/location. Click the Room Setup tool on the left.
CREATE ROOMS
First, select the location you'd like to add rooms with the dropdown menu at the top. Below, create a room by giving it a name, then clicking the ADD button (note the CAPACITY field is optional and NOT functional).

NOTE: Switching the venue to add rooms to a location other than the current event's main location does NOT change the venue of the event. Some events might have agenda items taking place in multiple locations, so we give you the ability to rifle through your locations and freely add rooms as needed.
ASSIGN ROOMS TO AGENDA SLOTS
Click into the Agenda Setup tool on the left, then click on a slot to open its settings. Select Venue & Room on the left:
ASSIGNING LOCATIONS TO REGISTRATION ITEMS
You can assign locations and rooms to registration items just like slots. If you decide to connect a particular registration item to the agenda, the location and room will be imported along with the slot.
Enter the REGISTRATION section of the Event Builder, then select the Registration Items tool. Click an item to open its settings panel, then select the LOCATION & TIME tab on the left. You will see that you tag an item with a unique location and room: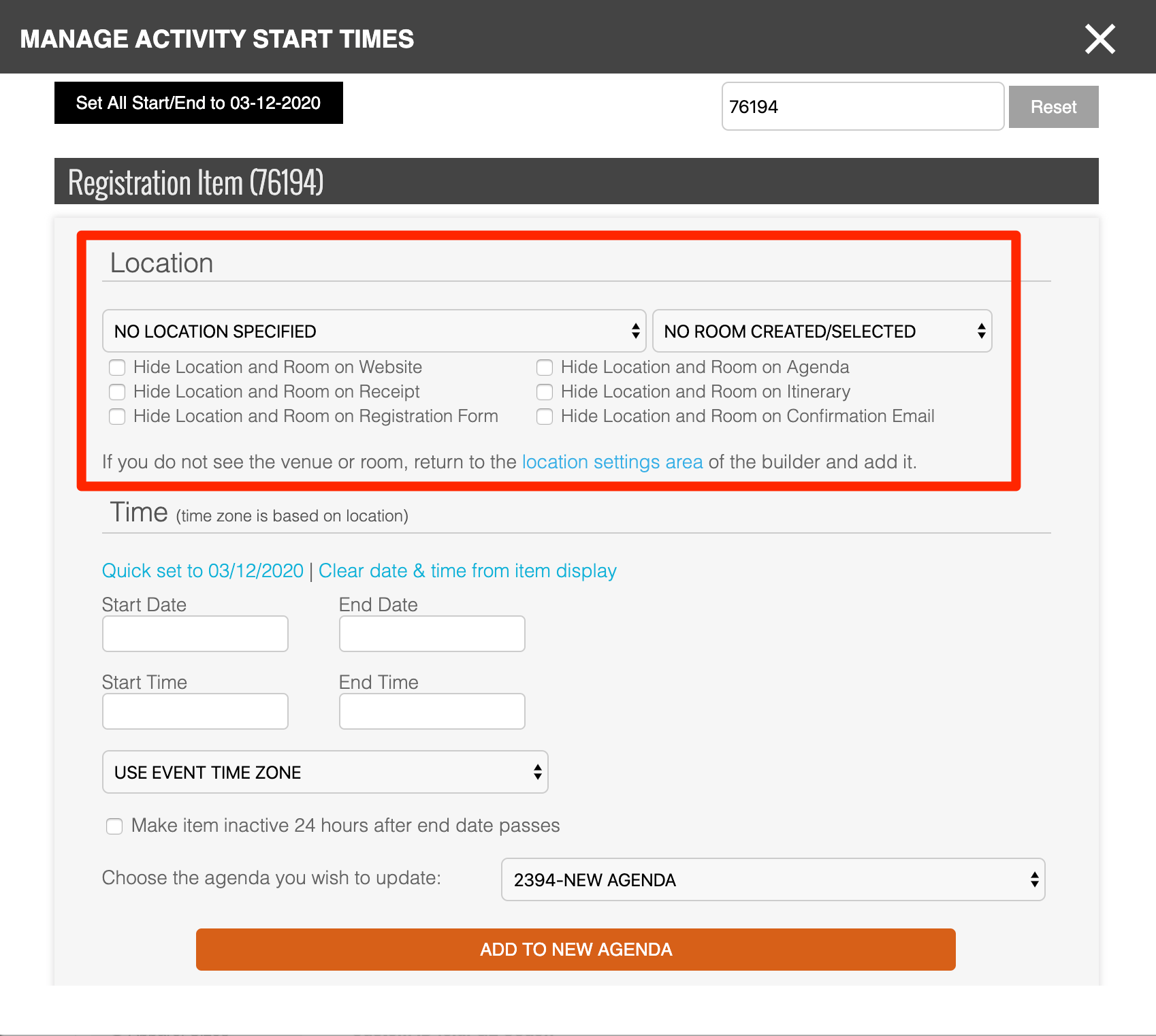 CONFLICTS
Eventsquid will not allow you to book concurrent sessions within the same room. Thus, the system will prevent you from double-booking rooms and making a mistake. This is a very helpful feature especially if your event has a large agenda.