We understand the operations of your event are critical. The nuts and bolts that actually make things happen have to be top of mind.
That's why we created the Management Reports section - these auto-generated reports give you insight into key aspect of your event, including:
Let's take a dive into each and see how they work.
APPAREL REPORT
The apparel report gives you a look at your overall apparel sales. The report is broken up by item (i.e. T-shirt, hat, etc.), each with quantity / dollars sold by individual size and for the item itself.
The Custom Report generator can also pull data on apparel purchases; however, the custom report will organize your data by registrant and not by apparel item / size, like it is here. This makes the Apparel Report very useful - it gives you a holistic event of the apparel you need and can assist you in your operational preparation for the event.
MEAL REPORT
The meal report is another auto-generated report that will smooth out your task list at the event. The stock Meal Report gives you a gross count of all your meals at the top (another great feature for preparatory measures), then further organizes your data. Check out the screenshot below:
At the top you'll see Gross Counts. Below, there is further organization of your data:
First, by Registration Item
Then, by Meal (from the menu you build)
Finally, the report will list your customers
This report view is helpful when, for example, you're keeping watch at specific activities on your agenda. In the case above, you might have the Banquet as a registration item you can sign up for. When checking people into the banquet, you might keep this report with you while communicating with the kitchen, to make absolute sure everyone is receiving the correct meal.
Furthermore, you can click into an alternative Grid View of this report by clicking the button at the top. This view is less granular - it includes a Gross Count at the top, followed by a list of all your attendees and the meal they've selected and the registration item that that particular meal is associated with.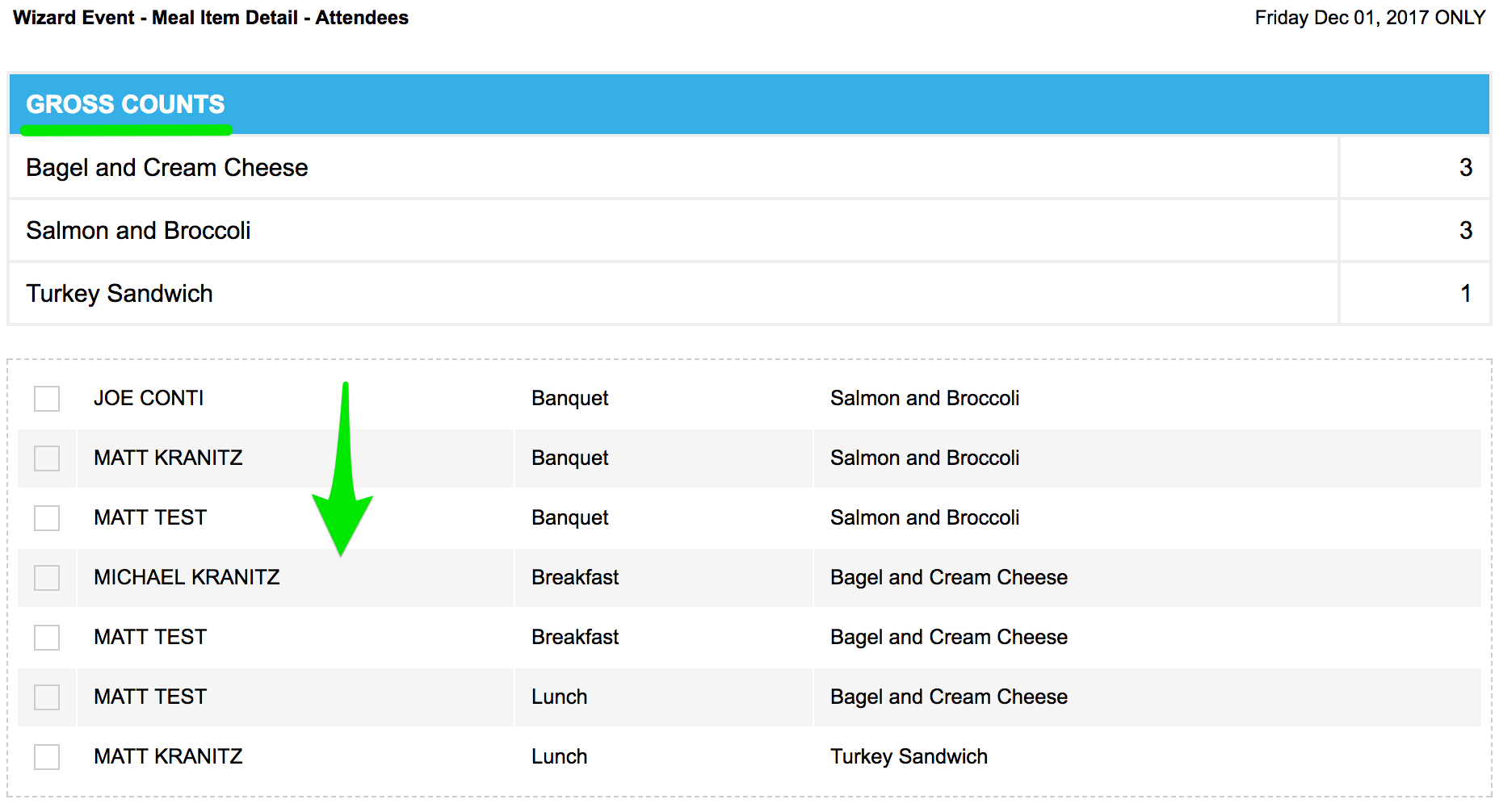 This is a very high level view of your meal breakdown and can provide useful in a number of instances.
SPEAKER REPORT
The Speaker Report will show you all the information you need on special guests, including the location / time they're supposed to be in and the speaker's bio - all from an auto-generated report! Check out the example below:

Notice at the top, you have the capability to:
Print the report
Export the data to an Excel spreadsheet
Email the data (in text format within the body of an email) to a recipient